Davao City has become home to several restaurants and concept food stores, and it's great to see how a lot of various dishes and delicacies have sprung up over the past few years. Many Dabawenyos are on the lookout for new food stops to discover, particularly those that aren't found in the malls.
Wild Garlic is one such gem, hidden in one of the famous neighborhoods in Ma-a. The restaurant boasts of authentic Southern Luzon dishes and a cozy ambience perfect for intimate dinners and family gatherings.
The Tagalog-themed resto's bestseller is Wild Garlic Grilled Chicken with Wild Garlic Sauce. The restaurant menu describes the dish as "a local variation of the Portuguese dish 'peri-peri' — a richly marinated grilled chicken preparation of healthy & natural exotic herbs & spices."
Because Wild Garlic's menu is based on traditional Southern Tagalog cuisine, expect many of their dishes to have coconut milk or gata. I personally love their twist on tuna panga called "Panga Royale", which is cooked in coconut milk and taro leaves. The succulent slab of tuna panga fits quite nicely with the acidity of the paksiw-style sauce and the sweetness of the coconut milk. You may also try The Empress, which is essentially Binagoongang Tuna Panga.
For veggie lovers who also like some meat in their meals, try Pechay ni Chuchay, which is pechay stuffed with ground pork and fish tinapa and simmered in coconut milk. Pechay ni Chuchay was a knockout surprise! The vegetable was perfectly cooked, while the gata base infused a welcome richness to the flavorful pork-fish stuffing.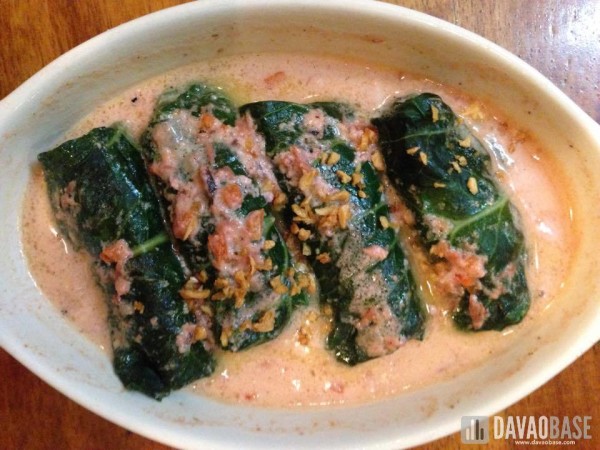 Amidst the rise of big restaurants and food franchises, it's nice to discover quaint and hidden trasures such as Wild Garlic.
——————————
Wild Garlic
497 South Street, DBP Village, Ma-a, Davao City
Phone (082) 296-0046