The arrival of Manila restaurant brands TGI Fridays and Italianni's has upped the level of dining experience here in Davao City. Dabawenyos have come to identify Italianni's with classy Italian comfort food.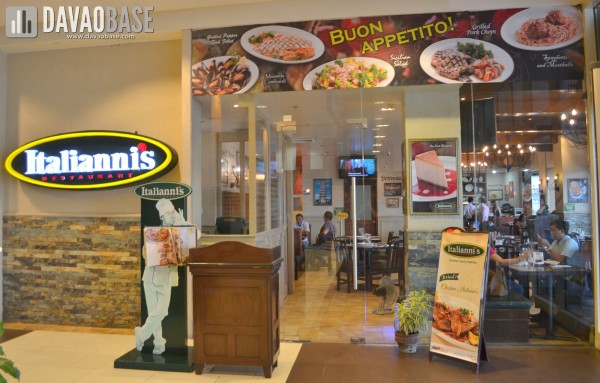 This famous Italian restaurant recently launched its Weekday Lunch Deals, composed of four dishes that give you a sense of what Italianni's can offer.
Here are the Weekday Lunch Deals available at Italianni's (from top left, clockwise):
Baby Back Ribs in Salsa Verde Sauce and Spaghetti Pomodoro – PhP 295
Herbed Chicken in Caramelized Onion Sauce and Spaghetti Aglio Olio – PhP 295
White Fish Roulade and Spaghetti Aglio Olio – PhP 325
Braised Short Ribs with Costina Sauce and Garlic Rice – P325
Just add P70 for Caesar Salad and P40 for iced tea. We've learned that you can also customize your meal by choosing the pasta (or rice) that goes with your entree.
Of course, while you're there, don't miss out on these 2 salad platters that are pleasant both to the taste and to your health:
Italianni's Salad (a generous serving of greens with cucumber, grapes, walnuts and avocado tossed in Italian vinaigrette dressing); and
Sicilian Chicken Salad (crispy romaine lettuce with chicken breast, mangoes, red grapes and walnuts tossed in creamy anchovy dressing)
Throw in some freshly baked bread paired with herb-infused olive oil and aged balsamic vinegar dip plus a glass of refreshing lemonade, and your meal is fantastically complete.
Buon appetito!
——————————
Italianni's – Abreeza Mall
Ground Floor, Abreeza Mall, Davao City
Contact No: (082) 321-9587 | 321-9588