World Palace is a popular hangout for groups who want to spend the night doing two of Filipinos' most favorite pastimes — eating and singing!
This KTV and restobar has several themed function rooms equipped with TV and videoke facilities. You may call in for room reservation, but we were informed that they reserve rooms only until 7pm. After then, they may give the rooms to walk-in clients.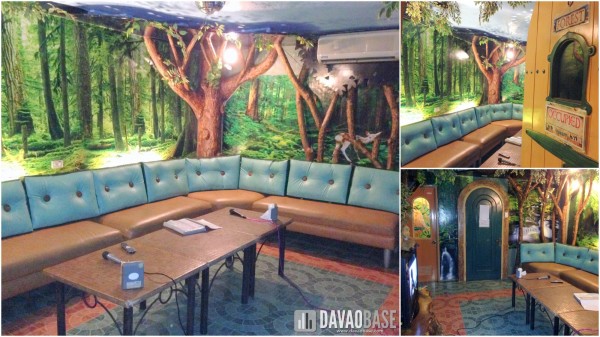 World Palace Videoke Room Rates — good for 4 hours:
Room for 15 persons – PhP 1,800 (P1,500 consumable, P300 service charge)
Room for 15 persons – PhP 2,800 (P2,500 consumable, P300 service charge)
VIP room for 25 persons – PhP 3,800 (P3,500 consumable, P300 service charge)
P200 per extra person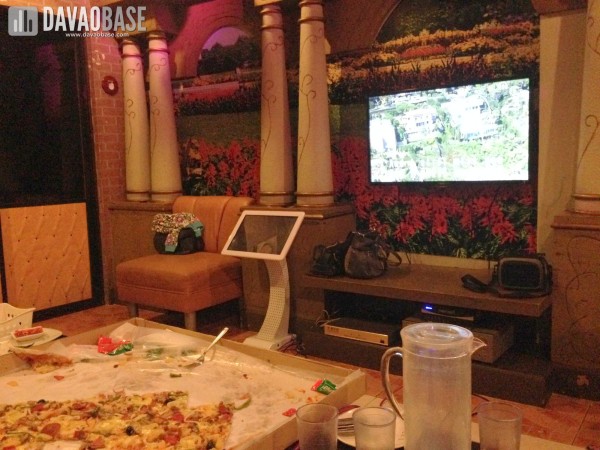 While the rates include a consumable amount and they deliver your food orders to your room, they also allow bringing of food from outside. You have to pay corkage for them, though. Two of our friends went out to buy this giant pizza (P1,500) at a nearby pizza place. They initially charged us P300 corkage for the pizza, but they later reduced it to P150.
Aside from pica-pica, sandwiches, steaks and beverages, World Palace also has cakes and pastries. And why not? Their guests usually have something to celebrate.
In our case, we were celebrating our friendship with the Abragans (Aying, Jinkee and Yana Abragan), who were leaving for their hometown Iligan City.
It was sad to see them go…
… but we're happy to send them off where they can touch the lives of more people and make more positive impact to the world. Besides, this is not really "goodbye" but only "see you again soon." Good friends never really lose touch, right?
World Palace
Acacia Street, Juna Subdivision
Matina, Davao City
Contact No: (082) 297 4189 / (0922) 847-3328
Note: Last two photos from Joseph Palarca