It's a huge craze in the US, and it's now in Davao! The widely sought-after cronuts — a croissant that looks like a donut — is now available in Cafe France, but it's called French Donuts.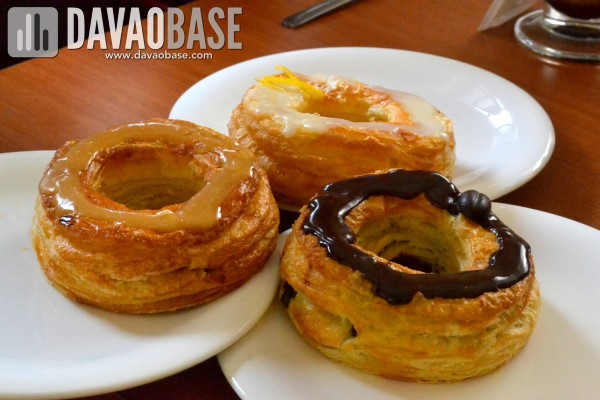 Lovers of croissant (such as me) will definitely salivate as you take your first glimpse of this fantastic piece of work. Just look at them! One look, and you're sure to taste the crispy and flaky goodness of a croissant bun.
Cafe France's version of the famous cronut is available in three flavors: Lemon Custard, Salted Caramel, and Classic Chocolate. They all taste so good! I wouldn't dare rank them in order of taste, because each of them brings something different to the whole cronut experience. Lemon Custard is perfect in its blend of sweet custard filling with just enough whiff of lemon flavor. Salted Caramel offers a great contrast between saltiness and sweetness, which pastry enthusiasts (like me) really enjoy.
If I were to pick the most surprising experience from the three variants, it would have to be the Classic Chocolate French Donut. I guess I was too awestruck with the presence of the cronuts on my table, that I failed to notice that the choco cronut was close to bursting at the seams with chocolate filling! When I took a bite, the filling literally spurted out of the french donut, drenching my hand in pure chocolate. I couldn't have asked for more in my first cronut experience.
Cafe France French Donuts are available for P99 each. It's already available in all Cafe France branches in Davao.
————————–
Cafe France
Manila Bulletin building
Rizal cor. Ponciano Street, Davao City
(Also with two outlets in Gaisano Mall of Davao)