Wine is said to enhance the flavor of food. But for most Dabawenyos, wine is synonymous to "expensive" or "alta sociedad". Fortunately, Apo View Hotel thought of a unique way of offering wine to its clients, while at the same time letting patrons enjoy the sumptuous food at Entree.
As part of its 65th year of operations, Apo View launched Entree Wine Quartet, a new menu item that lets diners "savor a set of four carefully selected wines to match their favorite dishes" at the hotel's buffet restaurant.
Apo View Hotel President and CEO Chris Pamintuan welcomed a handful of media representatives to experience the first-of-its-kind wine tasting event in Entree. When you order a Wine Quartet, you get four glasses of wines for P250. That's a very good price, considering that one full glass of wine in Apo View costs the same. With the Wine Quartet, you get to taste four wines.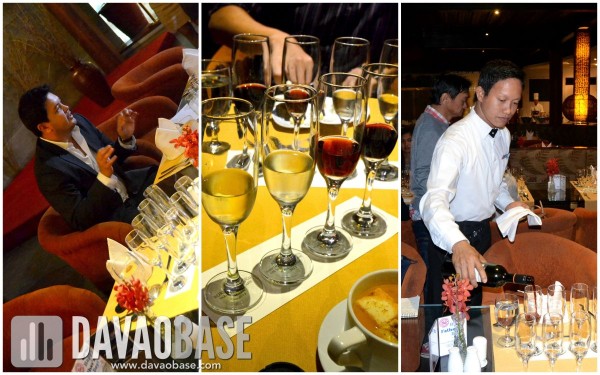 We were served the following wine varietals during the launch: two white wines (Macabeo and Torrontes-Sauvignon Blanc) and two red wines (Pinot Noir and Mouverde / Monastrell). Wifey and I liked Torrontes-Sauvignon Blanc (New Age brand) the most, because of its sweetness and refreshing taste.
It was a new and exciting experience for us. It was our first time to drink wine this way, and we also got to pair the wines with food that complement them.
Entree Wine Quartet is the first of its kind here in Davao. It's a great opportunity for Dabawenyos to mix and match different wines with the wide selection of dishes at Entree.
——————————–
Entree at the Apo View Hotel
Phone (082) 221-6430