After a 5-hour commute to San Francisco, Agusan del Sur via Bachelor Express and another 2-hour road trip to Bislig City, Surigao del Sur on a private vehicle, we have finally arrived at our destination for Mother's Day weekend: Tinuy-an Falls!
Mamu has been planning for a trip to Tinuy-an Falls and Enchanted River ever since she saw these popular tourist destinations being featured on TV. Mother's Day weekend came as a perfect opportunity.
And that's Mamu on the photo above with the country's widest waterfall at the background!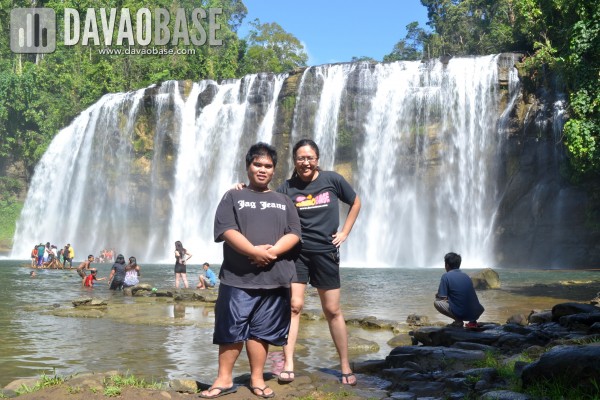 While the view from a considerable distance is already breathtaking, we can't pass the chance to get closer to the falls, especially after traveling so far. We rented a bamboo raft for P100, and it brought us right under the falls. The impact of water falling 55 meters on our backs made for a good massage.
Take a look at us having Tinuy-an Falls as a shower. We were right under the falls when these photos were taken!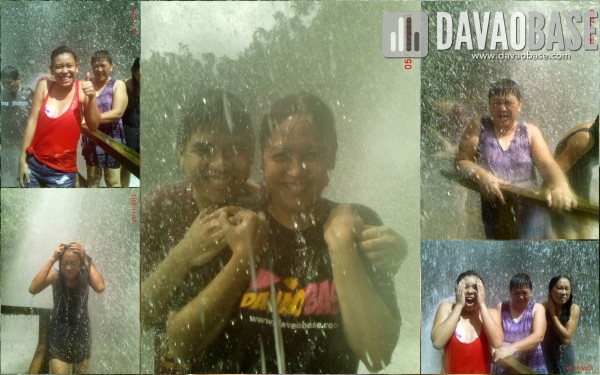 Visitors may also rent life vests, snorkel and even a camera. We rented an underwater camera for P300 so we don't risk our camera getting wet. We had to provide our own memory card, though. The two photos above were taken using the rented camera.
Entrance fee for adults is P50, but kids aged 7 and below can get in for free. You may rent a small cottage for P300 (for 6 hours) or a big cottage for P500 (for 6 hours). In our case, since we're not really staying long, we opted to leave our bags on the rocks nearby, with Manong Amay watching over them. For more information on rental fees and other facilities, check image below.
The road trip was literally a pain-in-the-butt (it was long and the roads were rough), but it only took one glance of the majestic waterfalls to make it all worthwhile.