In the past few months, we saw Dexter's Pizza joints popping out in different locations here in Davao City. We recently dropped by their Caltex Ecoland branch.
We ordered Shawarma pizza, which the food attendant said was their bestseller, plus (chicken) wings and (potato) wedges.
The pizza was unique, delicious and affordable. The medium pizza (P130) was enough for two people. Other available sizes are large and party. 
Dexter's Pizza also offers flavors in different categories, namely All Time Favorites, Healthy Cravings, Gourmet and Premium.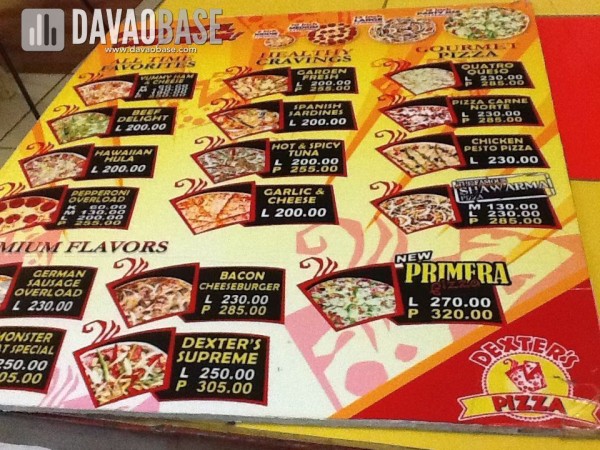 While we enjoyed our pizza, we cannot say the same about the chicken. It smelled burnt, probably because the oil used to cook the chicken has been re-used so many times already. Also, every time there was an order for chicken, the place got filled with smoke that the staff had to open the doors to let the smoke out. 
With its variety of pizza flavors, convenient locations and affordability, we think Dexter's Pizza would be nice for barkada bonding or for late night snacks, or just to grab some take-out pizza as baon on a fun road trip.
Dexter's Pizza
Caltex Ecoland Branch
Tel: (63 82) 285-8888
—-
Note: Photos above were taken using an iPad.