Globe Telecom has partnered with Ayala Foundation, Inc. to bring student-leaders to a 3-day leadership camp, as part of its Leadership Communities (LeadCom) program.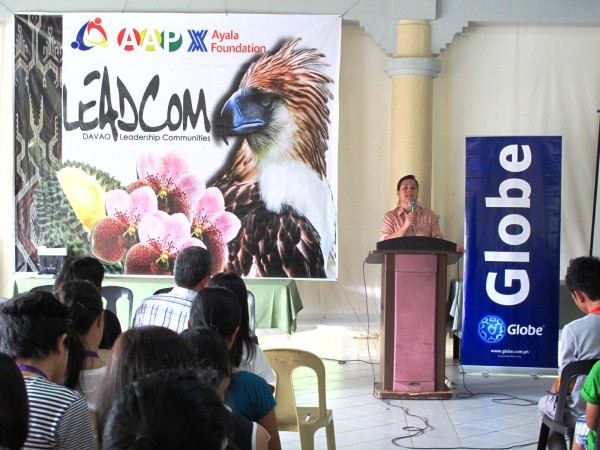 The LeadCom camp in Davao was held in Loleng's Mountain Resort from June 27 to 29, 2012. About 100 college students were invited to the camp.
Participating schools in Davao are Ateneo de Davao University, Brokenshire College, Davao Doctors College, Holy Cross College of Davao College, Philippine Women's College of Davao, San Pedro College, University of the Immaculate Conception, University of Mindanao, and University of the Philippines in Mindanao.
LeadCom participants are expected to use their leadership learning to create project proposals that would benefit their chosen community or school. Globe will also assist select group-recipients through the BridgeCom Fund for Social Innovation for a project that offers a solution to a community problem, and through the BridgeCom Fund for Sustainability for a project that can be implemented over a long period of time. The grants can be as much as P50,000. Bridging Communities or BridgeCom is Globe Telecom's flagship corporate social responsibility program.
LeadCom follows the path of the Ayala Young Leaders Congress (AYLC), the main program of the Ayala Group of Companies for Youth Leadership Development, now on its 14th year. AYLC chooses student-leaders from different parts of the country for a student leadership summit. I am honored to be part of the 1st Ayala Young Leaders Congress held in Tagaytay.
It was also great to see AYLC batch mate Wardy Puyod, other AYLC alumni and Sir Monchito, the Tatay of Ayala Young Leaders, during the LeadCom launch in Zab's Buffet Restaurant last Tuesday. So please allow me to reminisce my AYLC days by ending this entry with lines from my application essay (which got the attention of one of our keynote speakers, who actually mentioned it in his speech) — Let us make more and more dreams, and turn most of them, if not all, into wonderful realities.
————-
Time for another giveaway!
Who is your favorite (school / community / religious / government) leader in Davao?
Share your answers by leaving a comment below. To make it more fun, we would be giving out P300 Globe load (three P100 Globe call, text and internet prepaid load cards) to one lucky commenter. Winner will be announced on Sunday, July 8.