BPI offers businesses in Davao an efficient cash management system that allows executives to stay on top of the company's financial operations wherever they may be, with the use of their mobile phones and the BPI ExpressLink Mobile system.
Company officers could be out of town or out of the office all the time for official trips, and accounting people need not worry. With ExpressLink Mobile, officers can view and approve transactions even on the go.
Through BPI ExpressLink, businesses can pay employees, utility providers and suppliers anywhere. BPI also partnered with BIR, SSS, Pag-IBIG, BOC and PhilHealth to allow electronic payments and submission of payment files online. Not only does this take away recurring issues such as long lines and late payments, it also allows assigned employees more time to focus on other responsibilities.
BPI ensures efficiency and convenience for ELink users, as well as assures them of its system's security with its two-factor authentication requirement for financial transactions.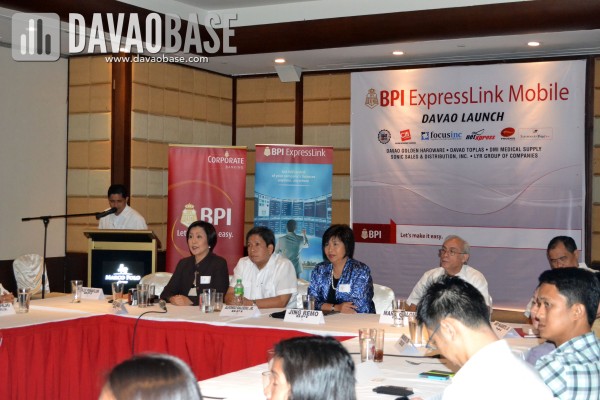 In Davao, BPI is working with Ateneo de Davao University, Citi Hardware, Davao Golden Hardware, Davao Toplas, DMI Medical Supply Inc., Focusinc Group, Iluminada Farms, Lyra Group of Companies, NetXpress, Phoenix Petroleum and Sonic Sales & Distribution Inc.