Circulating on Facebook these days is the "Dabawenyo ka kung.. (insert a phrase to complete the sentence)" status update. Most of the answers don't really represent all Dabawenyos, but many were able to capture experiences that are truly Dabawenyo. I actually have several answers to this, but allow me to share only one in this post.
Dabawenyo ka kung naka-adto na ka sa Apo View Hotel.
(You're a Dabawenyo if you have been to The Apo View Hotel.)
Not everyone may have stayed in one of the hotel's luxurious rooms, or have experienced dining at its finest at Entree, or have been to a romantic date or attended a wedding at the Top of the Apo, but surely every Dabawenyo knows where you can find Davao City's very first hotel.
Over 6 decades after first opening its doors to foreign and local guests, The Apo View remains to be one of the most notable landmarks in the city.
As we celebrate Kadayawan 2011, The Apo View has also prepared several events for tourists and locals alike.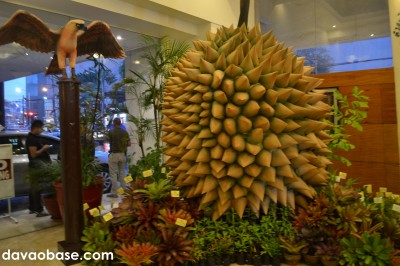 I had the great pleasure of being invited to The Apo View's press launch, and I can say the hotel successfully captured and showcased the essence of Kadayawan within its premises. As I entered the hotel, a display of local fruits and vegetables greeted me. To my left was a display of a giant durian and the Philippine eagle.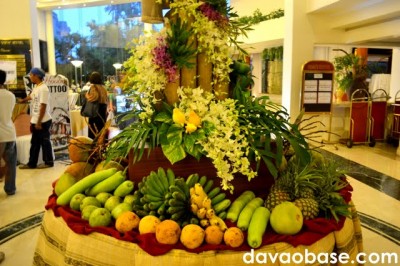 Also displayed in the lobby are the paintings of artist Ronald Tamfalan of the T'boli tribe. There was also a Henna Tattoo station, if you like to put on some body art.
After feasting on the delectable array of appetizers, main courses and desserts at the Entree, we were treated to a spectacular Fire Dance presentation. It was drizzling outside, but the show did go on for guests to enjoy. What an amazing way to end the night.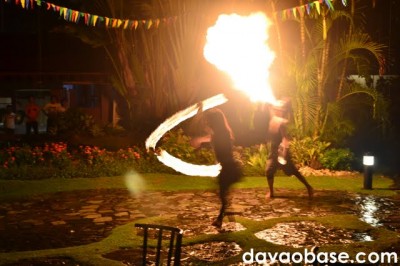 The fun is not over at The Apo View. Kadayawan Fiesta at The Apo View runs from August 8 to 21. It's open not only to hotel guests, but to everyone who wants to experience Kadayawan at the hotel.
See Celebrate Kadayawan 2011 at The Apo View Hotel for the schedule of events.
The Apo View Hotel
150 J. Camus Street, Davao City
Tel: +63 (82) 221-6430 to 40
Fax: +63 (82) 221-0748