In keeping with our tradition of celebrating unique timelines, here is another semi-geek alert!
Today marks a potentially perfect day, when the clock hits this particular time: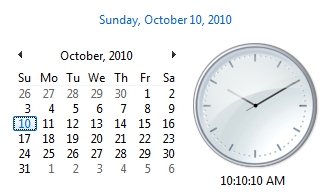 That's ten minutes past ten in the morning today, October 10, 2010. This time event is going to happen again in the next millennium.
Some interesting facts about the number 10:
10 is the smallest double digit.
It's the atomic number of neon. How funky!
"Ten" is the title of several albums in music from artists like LL Cool J, Brian McKnight, and Pearl Jam.
You're a "ten" if you have perfectly flawless physical attributes. 🙂