Davao Light and Power Co. Inc. has announced a scheduled 10-hour power interruption from 6:00 AM to 4:00 PM on Sunday, June 6, 2010 in some parts of downtown Davao.
Affected areas are: Magsaysay Ave. up to Jacinto St., whole area of Juan dela Cruz St. including Metrobank, Holy Child Campus, portion of AdDU and Davao Maternity Hospital, portions of Ponce St., Chavez St., Padre Gomez St., Pag-asa St., and Guererro Street.
The interruption will allow Davao Light crew to replace a rotten pole along Jacinto Street.
For further inquiries regarding the power interruption or other Davao Light concerns, you may visit or call: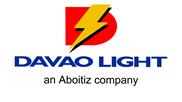 Davao Light and Power Co., Inc.
C. Bangoy Sr. Street (formerly Ponciano Reyes Street)
8000 Davao City
Contact Nos. (6382) 229-3572 / 221-2105