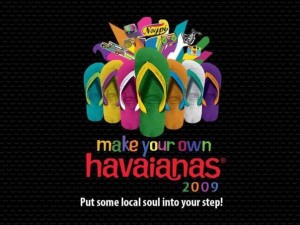 Attention to all Havaianaticos in Davao!
Express your creativity with this year's "Make Your Own Havaianas'! The event, which will take place on September 18 to 20, 2009 (mall hours) at the Gaisano Mall of Davao, allows Havaianaticos to mix and match different colored soles and straps and to design them with culture pins, lifestyle pins and swarovskis.
Choose the style, colors, and embellishments that fit your personality and lifestyle. Design your very own Havaianas! Your imagination is the limit.