After weeks of being bombarded by billboards on practically every pedestrian overpass, we finally got the chance to visit Robinsons Cybergate Davao in J.P. Laurel Avenue last Wednesday.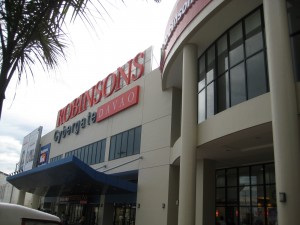 Robinsons Cybergate Davao is the first of several upcoming establishments to set foot in the northern part of Davao City. Although somewhat small to be considered a mall, it houses a number of stores to complete a family's shopping experience.
The main focal point of the new establishment is Robinsons Supermarket, a very famous (and high-end) grocery in Metro Manila. Its brightly lit interior gives an extra shimmer to each grocery item, making you want to grab something straight to the counter (P220 worth of cheese, anyone?).
If you haven't been to a Robinsons Supermarket anywhere in the country, visit this one and you've basically seen them all.
Robinsons Cybergate Davao
J.P. Laurel Avenue, Davao City