"Morissette Is Made" comes to Davao City on September 2, 2018, 8 PM at the SMX Convention Center, SM Lanang Premier!
'MORISSETTE IS MADE' IN DAVAO CITY
Experience the power and sincerity in Morisette's songs as she serenades Dabawenyos in a much-anticipated concert. Morisette is a Cebuana, and her father is originally from Davao City. Thus, it is not a surprise that her repertoire includes her current favorite Visayan song 'Puhon' by Kurt Fick. Her favorite lines in the song are:
"Ang gugma nga pang-now or never will be over too fast.
Mao nang ako, I'd rather wait for kanang the kind of love that will last."
(Click here for a little review on Bisaya words for daily use.)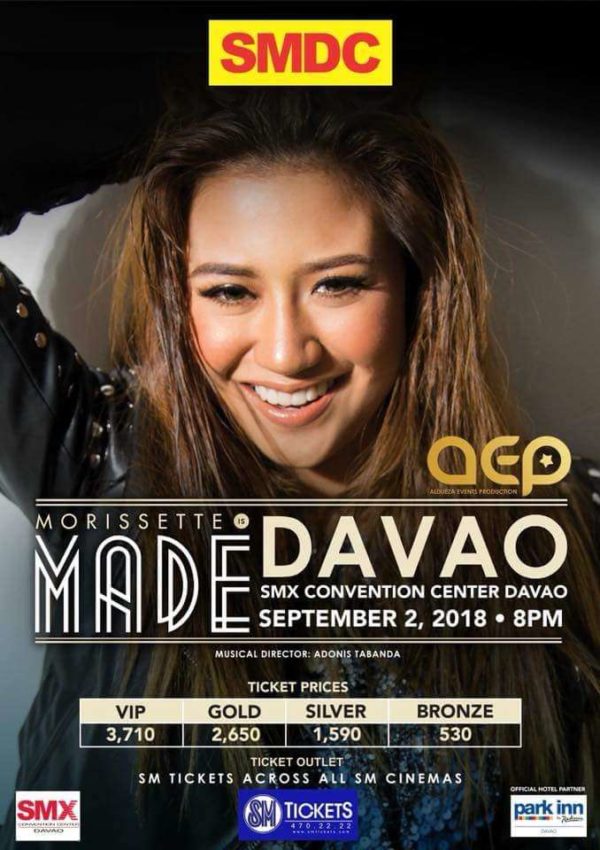 Dubbed as the Asia's Phoenix, Morissette prepares for international stardom through collaborations with Michael Bolton and Jessie J. At the same time, she enjoys the viral success of her YouTube video featuring "Secret Love Song" by the UK group Little Mix, performed at last year's Asian Song Festival in South Korea. She will also be one of the featured personalities in PeopleAsia magazine's "Women of Style and Substance" issue.
The concert series has wowed audience in Manila, Laguna and Cebu. Produced by AEP and sponsored by SMDC and Frontrow, it also features Darren Espanto as a special guest.
DAVAOBASE 'MORISSETTE IS MADE' TICKET GIVEAWAY
DavaoBase promised to give 1 Bronze ticket to a lucky Facebook follower who participated in our Like and Tag campaign last week. We received an overwhelming response, which shows how excited Dabawenyos are for Morissette's concert. Thank you to everyone who participated!
We are now ready to announce the name of the lucky winner of 1 Bronze ticket to the "Morissette Is Made" concert! And the winner is…
Amboy Jay Olliruam
Congratulations! Please drop us a message on Facebook for the details on how to claim your prize.
GET YOUR 'MORISSETTE IS MADE' TICKETS NOW!
Get your tickets at SM Lanang Premier or at SM Tickets nationwide. Ticket prices are:
P3,710 (VIP)
P2,650 (Gold)
P1,590 (Silver)
P530 (Bronze)
You may also call 0936 300 0243 for more details.