Anticipation for the upcoming Sarah Geronimo concert in Davao is reaching fever-pitch! The Popstar Royalty is set to rock Davao City again in "The Great Unknown" Live in Davao on March 3, 2017, 8:00 PM at the SMX Convention Center, SM Lanang Premier.
Ticket prices are as follows:
VVIP: P3,600 (reserved)
VIP: P2,750 (free seating)
Gold: P1,690 (free seating)
Silver: P998 (free seating)
Gen Ad: P630 (free seating)
Win VIP tickets to the Sarah Geronimo Concert in Davao!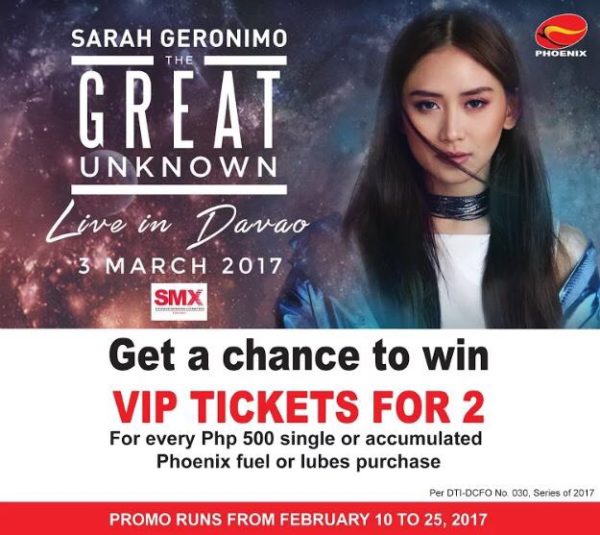 Want to score VIP tickets to "Sarah Geronimo: The Great Unknown Live In Davao" for FREE?
Gas up at Phoenix gas stations and get the chance to win VIP Tickets for 2 to the Sarah Geronimo Great Unknown Live in Davao Concert. Every P500 purchase at participating Phoenix Fuel Stations in Metro Davao, entitles you to one raffle coupon.
Promo mechanics:
For every P500 in a single or accumulated fuel or lubricant purchase receipt from any participating retail station in Metro Davao entitles the customer/s  to one (1) raffle coupon.
Customer must present their receipt/s in order to receive the raffle coupon.  Receipt/s can only be used once and will be stamped CLAIMED to identify that they have claimed the coupon/s. Any excess amount in the receipt/s shall be void and will not be used for next redemption.
Receipt/s for accumulation are valid only at the branch where the transaction was made. Only receipts within the promo period are valid for redemption.) Damaged receipt/s will not be accepted. Likewise, lost receipt/s will not be replaced.
Promo is valid for cash and credit card transactions only. PO and bulk transactions are not included.
Promo cannot be used in conjunction with other promos.
Deadline of submission of entries is on February 25, 2017, at 5PM.
Grand Draw to be held on February 28, 2017.
There will be a total of 10 winners.
Employees of Phoenix Petroleum, participating stations, its affiliates, distributors, suppliers, advertising agencies including their relatives up to the second degree of consanguinity or affinity or disqualified from joining the promo.
Promo runs from February 10 to February 25, 2017.
Participating Stations:
Phoenix Lanang, Phoenix R. Castillo, Phoenix Damosa, Phoenix Torres, Phoenix Matina, Phoenix Tierra Verde Sasa, Phoenix Dacudao, Phoenix Bacaca, Phoenix Cabantian 1, Phoenix Maa Diversion, Phoenix Sasa 2, Phoenix Ponciano, Phoenix Acacia