Churreria La Lola is now spreading churro happiness in Mindanao with its newest branch at SM Lanang Premier. Dabawenyos, get ready to experience La Lola Davao!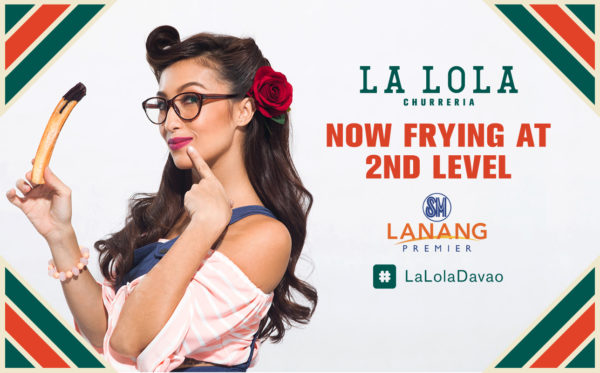 Adding to its roster of 20 branches, La Lola is now ready to serve hot & fresh churros to all foodies of Southern Mindanao. With flavors that will excite all ages, you shouldn't miss out on the well-loved traditional treat that La Lola made into an epic snack-time rock star!
La Lola is a locally grown concept, serving the best authentic Spanish churros. Its churro is a work of art and is made with love. La Lola's mission is to make high-quality churros accessible to everyone, with the belief that its offerings will bring chocolatey smiles for happy tummies and happy souls.
La Lola only uses premium ingredients that are sourced locally, branded and made especially for La Lola: 100% olive oil, premium house chocolate and authentic Spanish dough. The company takes pride that 80% of its products are made from scratch. All of the La Lola Churrerias are equipped and trained to produce fresh churros, xuxos, dips, sauces and drinks.
As a Churreria — a store specializing in churros — La Lola offers exciting churro variations that are designed as an awesome treat perfect for sharing:
Clasicos (the traditional churros) are best eaten hot & fresh upon order and perfect with a hot chocolate dip with the following choices: Dark Chocolate, Signature Chocolate & Matcha.
Another favorite is Choco Churros, covered in flavored chocolate and chilled just right to preserve its flavor and freshness. This variant comes in exciting flavors of Dark Chocolate, White Chocolate, Matcha, Butterscotch and Strawberry. Mix and match your favorite Choco Churros flavours in a cone or take it home in our clear top take out box.
Another churro variation is called Xuxos, a piece of churro stuffed with choice of Nutella, Speculoos, Dulce De Leche & Banana Nutella.
Churro Ice Cream Sandwich — a more exciting twist to the regular churros — is basically artisanal gelato sandwiched between two churro swirls with choice of Vanilla, Dark Chocolate and Matcha ice cream.
La Lola's newest craze is Lola Loops, which you can pair up with your own coating and topping.
Churro Pops are Xuxo bites tossed in parmesan, basil & garlic.
As for drinks, La Lola serves coffee as good as our churros, with options of hot or iced, Espresso, Double Espresso, Americano, Macchiato, Café con Leche, Cappuccino and Mocha. Iced and hot teas are also available.
With its wide array of churros and beverages, La Lola Davao will always keep you coming back for more!
[Information from SM Lanang Premier]