The first-ever region-wide food festival is set to make rounds at SM malls in Mindanao from August to September 2016. Dubbed South by Mouth, it is happening at SM Lanang Premier on August 19 to 21, from 4pm to 10pm, in time for the city's most colorful festival – the Kadayawan.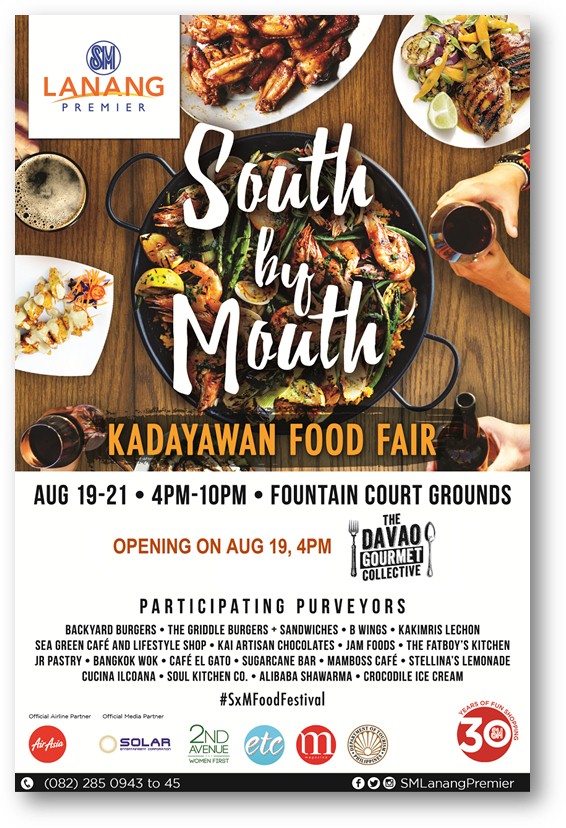 With the growing interest on Mindanao in the recent months, South by Mouth aims to promote the region's unique food culture through outdoor food fairs in three key cities: Davao, Cagayan de Oro, and General Santos.
In Davao, South by Mouth Kadayawan Food Fair makes a stop at SM Lanang Premier through the highly anticipated "Davao Gourmet Collective (DGC)" at the mall's Fountain Court grounds.
The DGC features some of the best local eats and emerging food concepts from a mix of 18 local and Manila-based purveyors – Backyard Burgers, B. Wings, Café El Gato, Jam Foods & Co., Cucina Ilocana, Alibaba Shawarma, Kakimkris Lechon, Stellina's Lemonade, Kai Artisan Chocolates, Sugarcane Bar, Crocodile Ice Cream, Mamboss Café, JR Pastry, The Griddle Burgers & Sandwiches, Bangkok Wok, Sea Green Café and Lifestyle Shop, Soul Kitchen, and The Fatboy's Kitchen.
Now on its fourth year, the DGC offers a gastronomic feast like no other. Festival-goers can enjoy delightful offerings such as whisky maple bbq ribs, Angus tapas, adobong puti, authentic pad thai, spicy chicken B.wings, and creamy smoked salmon linguini, among many others. Perfect for snacking are fresh salad wraps, homemade bacon sandwich, Ilocos empanada, shawarma, and Japanese Oishi burger while cranberry almond chocolates, crocodile coffee ice cream, and brown butter financiers are mouthwatering dessert options.
Officially opening on August 19, 4pm, South by Mouth Kadayawan Food Fair DGC is held in partnership with M Magazine, Air Asia, Solar Entertainment Corporation, ETC Channel, 2nd Avenue, and Davies.
This event comes after the South by Mouth kick-off at SM City Davao's "Grillfest" on August 12 to 14. South by Mouth then goes to SM City Cagayan de Oro with the "Uptown Eats CDO" and concludes at SM City General Santos with the "Tuna Festival Grillfest" on September 2 to 4.
Festival-goers can also revel in live DJ music at the Castaway Kadayawan Vibe Fest and ETC Paintensity events happening at the Fountain Court grounds on August 19 and 20.
For queries and event updates, visit SM Lanang Premier's official account on Facebook, Twitter and Instagram or search for #SxMFoodFestival.
(PR from SM Lanang Premier)