Online shopping has become a highly useful activity for people who either have no time to visit physical retail stores or spend most of their waking hours browsing online. If you like buying things through online stores and e-commerce websites, you might as well add another reason for shopping online: discounts and rebates.
Being an introvert and an online enthusiast at the same time, I find it convenient to use online means in order to get what I need. Apart from work, my usual online activities include reading the latest news, ordering food for delivery, and communicating with family and friends. It's only fairly recently that I have turned to the Internet for my shopping and purchasing needs.
Several online shops have sprung up over the last few years, and many of us have enjoyed the pleasure of buying items at astoundingly discounted prices. Who doesn't want to save as much as they can on purchases? I'm sure I do!
Enter ShopBack, a relatively new player in the Philippine online merchant market that offers rebates (or cashbacks) on top of the promos already offered by popular online stores.
Here's how the ShopBack cashback process works:
1. Choose from more than 500 online merchants
After signing up for a ShopBack account, you may run through the wide range of online shop choices across several categories: electronics, fashion, food and beverage, lifestyle, and more.
2. Buy from your chosen merchant through ShopBack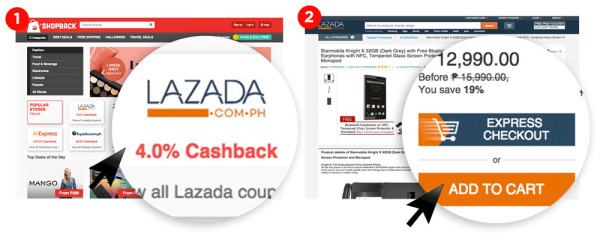 Click on your preferred online store, and shop in the same process that the merchant processes your purchase.
3. Receive your cashback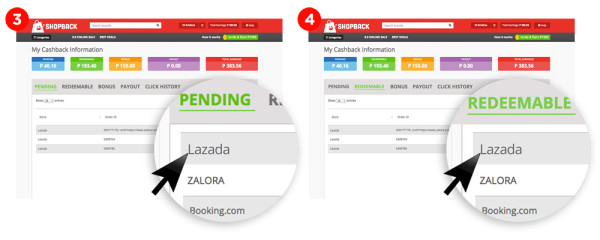 After successful payment, you should receive your cashback in the next few days. If your total accumulated cashback reaches at least P300, you can cash it out through your PayPal account, local bank account, or GCash wallet once its status turns from 'Pending' to 'Redeemable' after a validation period.
Here's a sneak peek of popular online stores offering cashback that you can earn through ShopBack:
Lazada

As one of the leading online stores in the country, Lazada has earned a reputation for being a one-stop shop for all kinds of things. This is especially the place to shop if you're looking for great value on consumer electronics. I'll go so far as to say that their range is truly unparalleled. Lazada offers up to 10% cashback and voucher codes through ShopBack.
Expedia
Get the best travel deals – hotel bookings, flight fares, and car rental services – with Expedia, and save more with ShopBack cashback. They even have convenient packaged deals for you that consist of flight and hotel bookings. All you have to do is key in your travel dates and destination and a list of hotel will be presented to you along with the accompanying hotel. ShopBack offers a whopping 8% cashback for Expedia!
Agoda
Agoda is famous for offering discounted rates on thousands of hotels all over the world. Get rebates from ShopBack on top of the discounted Agoda deals. Agoda has one of the most extensive list of hotels to choose from – up to 700,000. If you're pretty particular about your choice of stay overseas, then Agoda is your best bet. Agoda offers up to P400 cashback as well as some exclusive voucher codes.
FoodPanda
I'm surprised and happy to find one of my favorite online stores on ShopBack! FoodPanda does food deliveries for some of the most popular fast foods and restaurants. There is a whole thoroughfare of cuisines for you to sink your teeth into from popular fast food chains and fine French restaurants to local favorites. If you ever feel like abandoning your kitchen duties for the day, you know where to turn to. Foodpanda offers 7% cashback through Shopback.
ShopBack has long been running in Malaysia and Singapore, and they've just expanded to the Philippines and other Southeast Asian countries. Looking at its amazing array of online stores, I am eager to make my future online purchases through ShopBack.