Bring your kids to the forefront of their future, by enrolling them in Spotlight Personal Empowerment Workshop 2016. The annual summer program is open for tweens / teens at least 11 years old who want to learn more about fashion, acting, hosting, and leadership.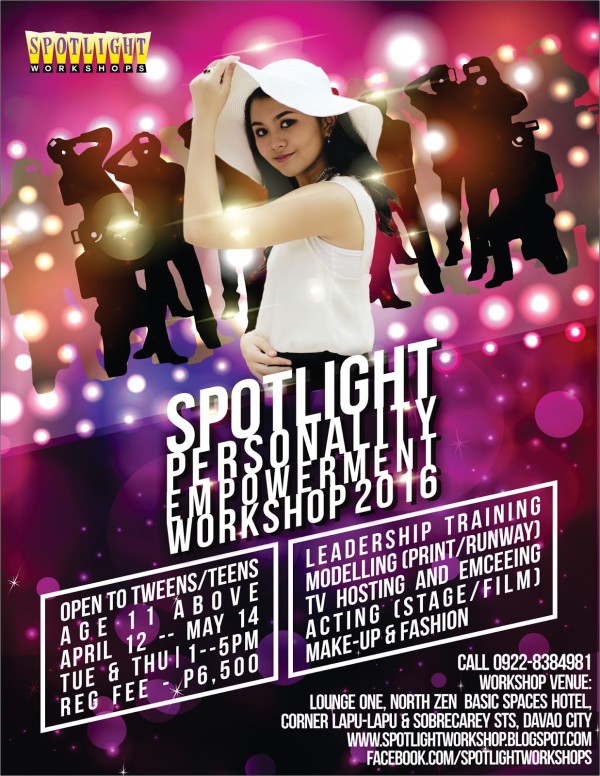 If you have children between 6 and 10 years old, you may enrol them in Spotlight STARter Workshop, a four-in-one summer class that teaches kids how to act, dance, strike a pose, and speak in public. This is "a great beginner's course for kids who are starting to show potential and also good for kids who need a little boost in their confidence."
Here are more details of the two Spotlight summer programs:
Spotlight Personality Empowerment Workshop
Class schedule: April 12 to May 17, Tuesdays and Thursdays, 1:00 – 5:00 PM
Registration fee: P6,500
Spotlight STARter Workshop
Class schedule: April 12 to May 14, Tuesdays and Thursdays, 9:00 AM – 12:00 NN
Registration fee: P4,500
Venue for both programs is at Lounge One, North Zen Basic Spaces Hotel, Lapu-Lapu corner Sobrecarey Streets, Davao City.
For the enrolment process, please follow these instructions:
Visit North Zen Basic Spaces Hotel to get a registration form.
Deposit registration fee to the Spotlight program director's bank account (please text 09228384981 for the account number).
Email a copy of the deposit slip to jillpalarca@live.com
Expect to receive a confirmation via email, containing details of the program orientation.
Now on its sixth year, Spotlight "is Davao's ONLY comprehensive workshop that combines the elements of leadership training and personality development."
Spotlight Personality Empowerment Workshop
Mobile 09228384981
spotlightworkshop.blogspot.com
facebook.com/spotlightworkshops