Are you a fan of Korean films? Here's great news for you: It's time for the annual Korean Film Festival, where you can watch Korean movies for FREE!
Here's even better news: Davao will be the first to enjoy the Korean Film Festival this year!
DAVAO (SM Lanang Premier Cinema 1) – September 17-20, 2015
ILOILO (SM CIty Iloilo Cinema 8) – September 24-27, 2015
CEBU (SM City Cebu Cinema 5) – October 1-4, 2015
MANILA (SM Megamall Cinema 6) – October 8-11, 2015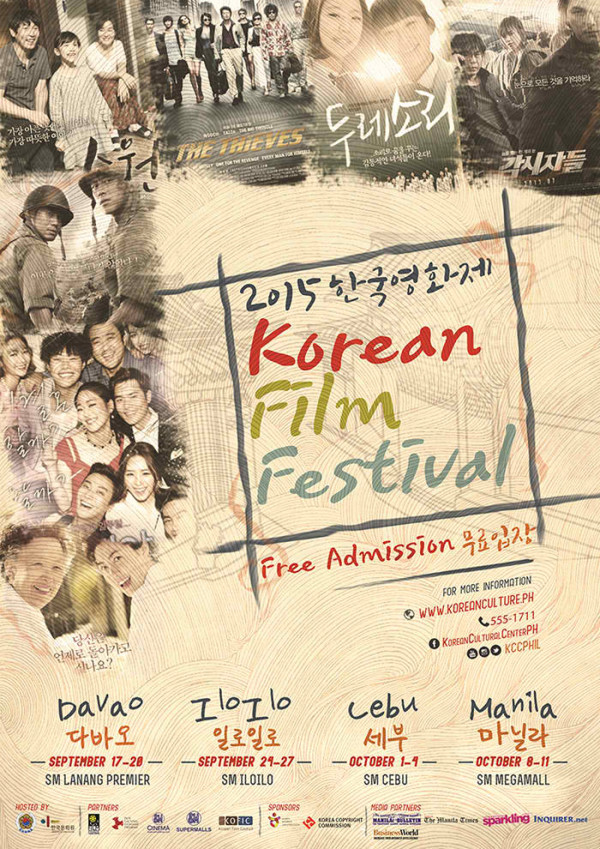 The Korean Film Festival 2015 will feature 7 films: The Thieves (2012), Miss Granny (2014), Cold Eyes (2013), The Front Line (2011), Marriage Blue (2013), Hope (2013), and Duresori: Voice of the East (2011).
All films come with English subtitles. Admission is free to all!
Here's the movie schedule for Davao: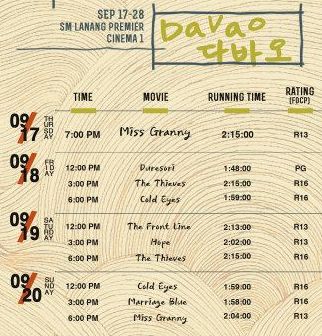 This festival is brought to you by the Korean Cultural Center in the Philippines and the Embassy of the Republic of Korea, in cooperation with the Film Development Council of the Philippines (FDCP), the Film Cultural Exchange Program, Korean Film Council, Korea Copyright Commission, Korea Tourism Organization, SM Cinema and SM Supermalls.
For more details, contact:
Korean Cultural Center
Tel No: 555-1711
Email: info@koreanculture.ph
Website: koreanculture.ph