Updated (Jan 19, 2015): We received information that Sunburst Fried Chicken and 5 Star Chicken are actually separate business entities, leaving us with a bunch of questions in mind.
————–
Most Dabawenyos are familiar with Sunburst Fried Chicken – that good old-fashioned juicy, crispy, yummy fried chicken we so enjoyed from way back when. We recently visited its old location at corner Quirino St. along Emilio Jacinto Extension, within the same compound as Sutherland Global Services, Pru Life UK and Coffee Cat.
We were surprised to learn that they have already changed the name of the establishment to 5 Star Chicken, although they still use the same menu and offer the same food choices. We, of course, did not pass up on the opportunity to have a bite of its classic fried chicken – and it did not disappoint.
The chicken was tasty and cooked so perfectly that it reminded me of the many times my family gathered around a feast of Sunburst specialties when I was much younger.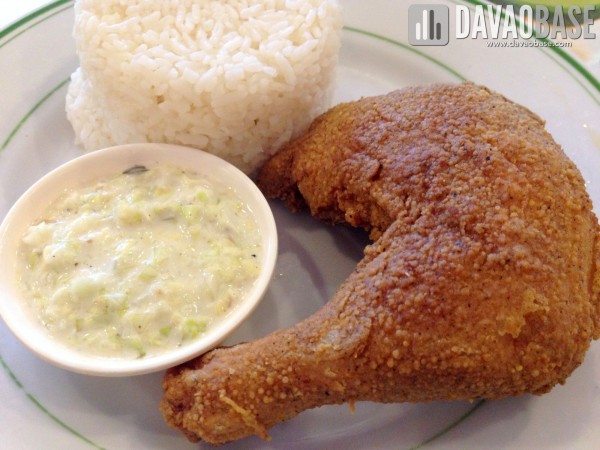 Check this screenshot of the the menu they gave us during our visit. Whole chicken costs P390 while a Solo order — consisting of 1 piece fried chicken, 1 rice and coleslaw — costs P90.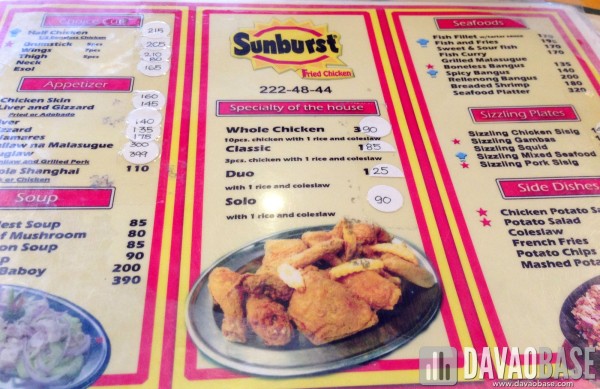 5 Star Chicken
Corner Quirino St., Emilio Jacinto Extension, Poblacion District, Davao City
Contact No: (63 82) 222 4844