Witnessing genius at work truly gives one a different kind of high. This is exactly how we felt as we watched the master composer Ryan Cayabyab doing his thing at the Songwriting Workshop with the Maestro held at the Finster Auditorium of the Ateneo de Davao University.
We learned a lot about songwriting and marketing songs from Ryan Cayabyab himself and from 4 PhilPop finalists — Jungee Marcelo, Ganny Brown, Raffy Calicdan and Adrienne Buenaventura — who were with him.
Mr. Ryan Cayabyab encouraged aspiring songwriters to start writing now and to share compositions with as many people as possible. He cautioned against being too protective of one's songs as he stressed that the best way to get feedback is to allow other people to listen and give comments about your songs.
On top of that, the workshop was really entertaining with Jungee's funny quips and Mr. C's superb mini performances. The Maestro's evident passion to impart his knowledge to his audience was also very inspiring.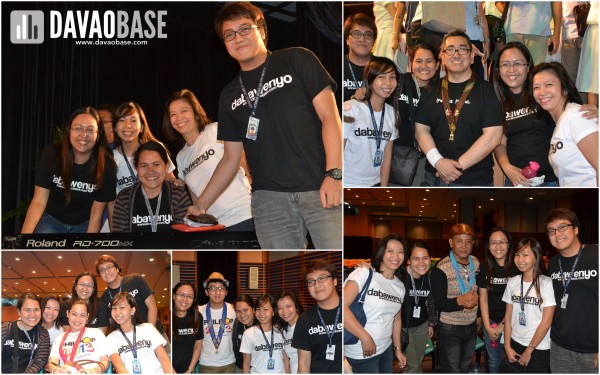 With so many other participants eager to have their photos taken with Mr. C, we were not able to come close enough for a photo with the Maestro. We came close to the keyboard he used during the workshop, though. 😛
Despite not having a photo opportunity with Maestro Ryan, we left happy — super happy, in fact, especially after the Maestro not only mentioned our DavaoBase 'dabawenyo' shirts but also sang about it when he saw us on the front row.
More importantly, we left a step closer to launching our next song. Abangan.