I'm a self-confessed Italian food lover. If I were given only one cuisine to eat for my entire life, I would definitely go for Italian. Ciabatta, Calzone, Pizza Quattro Formaggi, Carbonara, Mozzarella, Gelato, Cappuccino — that's a complete Italian food fest for me.
I got the chance to sample the world of Italian cuisine again when I met with Kelvin, one of my good friends way back in elementary school. While we were catching up on each other's lives, I was also able to rekindle my love for Italian food when we decided to meet in Morisco Ristorante Italiano.
The restaurant had its soft opening on May 22, and is already grooming itself to be a go-to place for everything Italian. The dishes at Morisco were created by Chef Giuseppe Morisco, the memorable Italian contestant who reached the top 10 spot of the TV cooking competition MasterChef US Season 2.
Judging from my hunger for Italian dishes, I had very high expectations of the restaurant. And I'm pretty confident in declaring that Morisco has achieved them. Right off the bat, I was welcomed by a barrage of Italian-inspired things — wooden chairs and tables, vases with spaghetti noodles instead of flowers, and the smell of freshly-baked bread.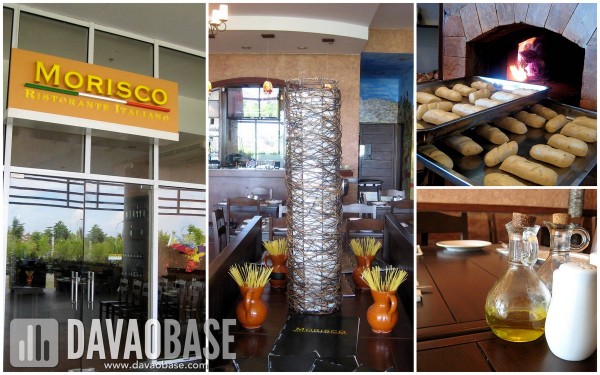 Almost all of the dishes listed on the menu were written in Italian, with English translations below each item. Now, I'm getting excited.
Kelvin and I opted for a light lunch, and so we ordered pasta. It didn't hurt that Morisco's in-house chef is Kelvin's younger brother Ken, who recommended two dishes for us:
Parmiggiana alla Pugliese is breaded eggplant baked with tomato sauce and parmesan. Three of my favorite things rolled into a single dish — eggplant, tomato sauce and cheese. Absolute perfection! I could gobble up the entire plate, but of course Kelvin had to eat as well. 🙂
House Pasta is a Morisco signature dish with spinach, pancetta, mushroom and truffle cream. It looks like carbonara, but it is way more sophisticated in terms of flavor.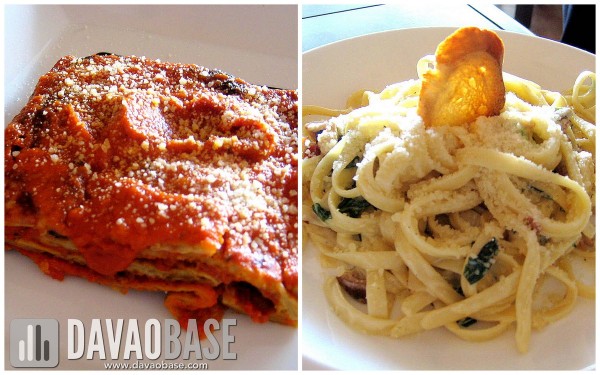 The pasta dishes were great, but what sold Morisco for me was the dessert. Tortino al Cioccolato, or molten chocolate cake, is perhaps one of the best desserts I have ever tried in my lifetime. It's basically a gelato-topped warm chocolate cake, and when you cut the cake, molten chocolate oozes from inside. One word: WOW! I've seen this prepared in cooking shows on TV, and I was so happy to have tried it here in Davao.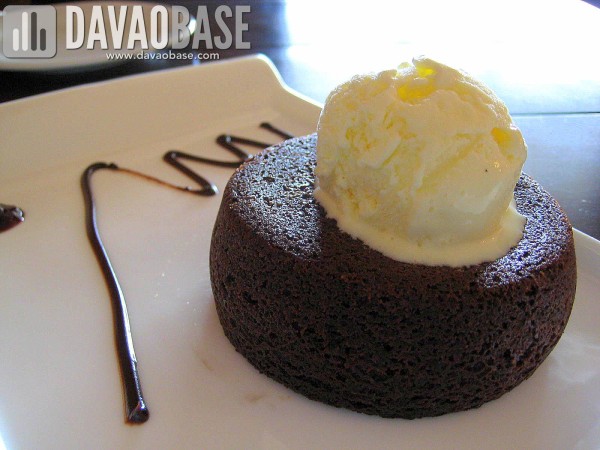 Morisco Ristorante Italiano is still on its soft opening, but Chef Ken said everything on the menu is already available. Thanks again to Kelvin for reigniting my Italian food love.
Interesting tidbit: Morisco Ristorante Italiano is run by Gli Amici Corp., which also operates Don Beppe Pizza and Pasta in Gaisano Mall of Davao.
—————————————
Morisco Ristorante Italiano
G/F Fountain Court
SM Lanang Premier
Lanang, Davao City