BonChon, the global phenomenon that has united discriminating diners worldwide in their love for its super crispy chicken secret, now offers another winning reason for its fans in the Philippines to come together.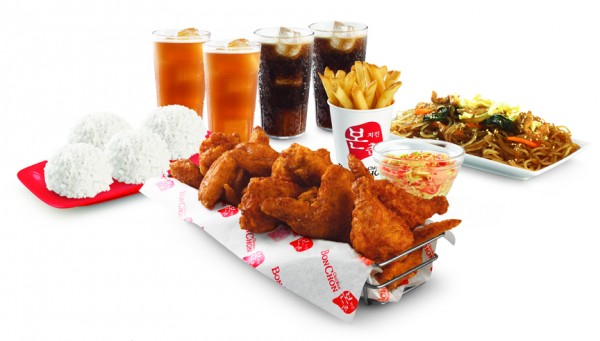 As tribute to the "teams" of families, friends, and work buddies who make up its most passionate customers, the new Team BonChon Group Meal provides a variety of BonChon best-sellers for sharing.
Enjoy a medium box of BonChon's globally raved about chicken glazed in its signature soy garlic and spicy, the much-loved classic Korean noodle dish Chapchae, 2 sides (fries and/or the famous Kimchi Coleslaw), 4 rice, and 4 regular drinks – a great value at PhP645.
Just in time for the launch of the new Team BonChon Group Meal, BonChon further celebrates the spirit of team and of winning as a proud sponsor of the UAAP games. What a winning combination!
The new Team BonChon Group Meal is available for dine-in, takeout, or delivery in over 22 BonChon stores in Metro Manila and Davao.
Text and image from BonChon through Stratworks
————-
BonChon Chicken in SM City Davao Annex is its first store outside Metro Manila.
BonChon Chicken
G/F The Annex at SM City Davao
Website: http://www.bonchon.com.ph