PRESS RELEASE — Globe Telecom storms Davao with Super Party, a live concert and performance show featuring Globe Prepaid endorser and Showtime premier judge Vice Ganda.
The Globe Prepaid Super Party will be held at the Matina Gym of the University of Mindanao on Saturday, June 11, 2011. Gates open at 6:00PM.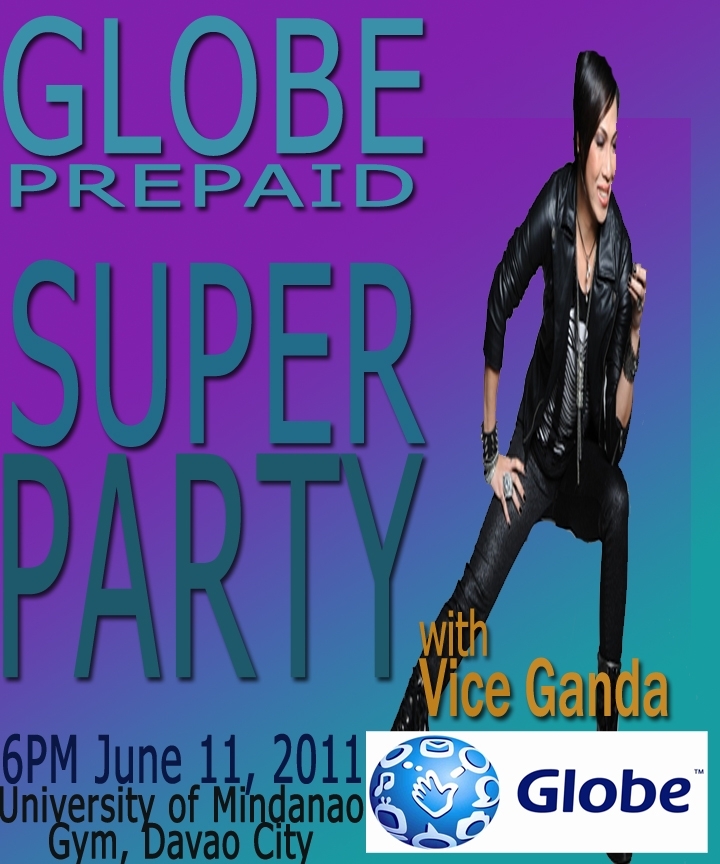 To see Vice Ganda live and watch him perform his funny antics and jokes, new Globe subscribers only need to buy a Globe Prepaid SIM at a discounted price of P20 and load P30 for a general admission ticket, P80 for a bronze ticket, P180 for a silver ticket and P280 for a gold ticket. For existing Globe subscribers, load P50 for general admission, P100 for bronze, P200 for silver and P300 for gold. Experience Vice Ganda like you never have before!
Invite all your friends to "party, party" and get updated with the latest happenings with Globe Prepaid's exclusive offer to Davaoenos, the GLOBE SUPERLAHAT20. With GLOBE SUPERLAHAT20, enjoy unlimited texts to Globe/TM, make 100 call minutes to Globe/TM, surf the internet for 1 hour and send 5 international text messages to 190 destinations for only P20 valid for 1 day. Both the 100 call minutes and 60 minute-mobile surfing are consumable by the minute. Text SUPERLAHAT20 to 8888 to register. Users will receive a text message confirming their registration to GLOBE SUPERLAHAT20. A P1 maintaining balance is needed to enjoy the service.
Aside from SuperLahat20, prepaid subscribers in Davao can also enjoy UnliTxt10, which gives them unlimited text messages to Globe/TM for only P10 valid for 1 day and EverybodyTxt10, which enables subscribers to send 75 text messages to Globe/TM and 10 text messages to other networks for only P10 valid for 1 day. Text UNLITXT10 or EVERYBODYTXT10 to 8888 to register.