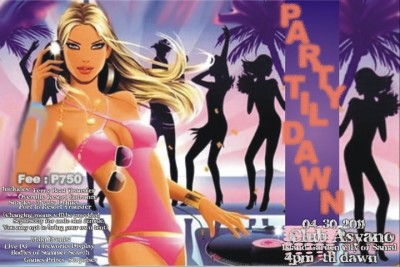 MetroLifestyle jumpstarts summer with Party Til Dawn at Club Asyano, Island Garden City of Samal. The summer party starts on April 30, 2011 at 4:00 PM, until dawn of May 1, 2011.
Main events include fireworks display, Bodies of Summer Search, live DJ, foam party, fire dancers, and many more.
Fee is P750, which includes ferry boat transfer, overnight resort entrance, meals and drinks, and port-to-resort transfer. You are welcome to bring your own tent.
Party Til Dawn is also sponsored by Coke Zero, Banana Peel, and Hygienix.
For more information, please call MetroLifestyle Fitness Center & Spa, at (082) 228-6182.