Paradise Island Park and Beach Resort is one of the most popular tourist destinations along the Davao Gulf. It boasts of fantastic view, great amenities and a fun venue for families and friends to bond and relax.
However, the existence of a 'poison website' has recently been discovered and it aims to destroy the reputation of Paradise Island. The resort's official website is http://www.paradiseislanddavao.com while the poison website has a deceivingly similar domain name http://www.paradiseislandresortdavao.com.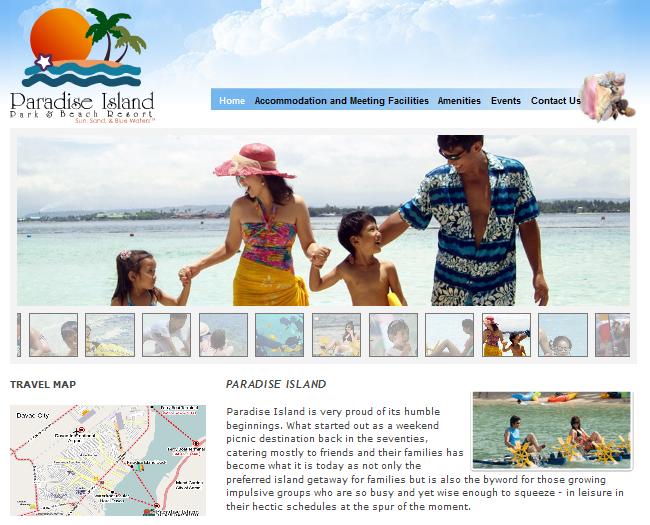 On its Home Page, the poison website uses the name 'Paradise Island Resort Davao,' mentions Samal Island and then proceeds to recommend Bluejaz Resort and Waterpark (which is described in the site as "located next to Paradise"). It also provides a link to the official website of Bluejaz.
Its other main pages are:
Beaches — This page shows photos of Paradise Island boats undergoing maintenance and dry-docked. In a letter to the Editor of Mindanao Times, Narciso Rodriguez, President of El Paril Resorts Inc., owner of Paradise Island Park and Beach Resort, maintains that the photos "had been taken from another beach location."
Bomb Awareness — This page posts a 'Disclaimer and Warning' to foreign visitors regarding the "risks of travel to the southern Philippine islands of Mindanao."
Contact Us — The page provides Bookings@ParadiseIslandResortDavao.com as a contact address. The correct email address to contact Paradise Island Resort is inquiry@paradiseislanddavao.com.
Paradise Island Blogg –This page tells site visitors about 2 terrorist attacks, which allegedly occurred "meters from the entrance to Paradise Island Resort." The resort's management stressed that the resort did not experience a single terrorist attack since it started operations in 1990.
Jun Diamante, Manager of Paradise Island Park and Beach Resort, has reported the website to NBI Sutheastern Mindanao Regional Office. An investigation is being done to determine who is behind the poison website and what crime has been committed in this case.
We're not connected with Paradise Island, but we support their cause in the name of fair competition. We hope that we see the end of this soon for the benefit of Davao tourism.