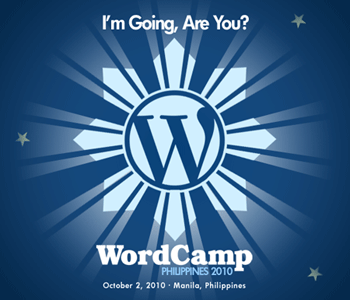 WordPress users and bloggers, unite!
October 2, 2010 marks the third WordCamp Philippines, an annual gathering of WordPress users in the country. Dozens of bloggers are expected to flock the College of Saint Benilde along Taft Avenue to discuss anything and everything about the well-loved blogging platform.
The annual convention is organized by Avatar Media, a Davao-based online media outfit composed mainly of WordPress bloggers themselves. This year's event promises to be bigger and better than the previous two gatherings, through a load of sponsors and a whole lot of distinguished speakers including Matt Mullenweg, the creator of WordPress.
Congratulations to Avatar Media core members Andrew, Brendel, Chattee, Dulce, Jim, Lyle, Migs, Ria and Winston for bringing this internationally acclaimed convention here in the Philippines. Your fellow Davao bloggers are rooting for you!
WordCamp Philippines 2010 is sponsored by Woo Themes, SMART Communications, DoubleDot Media, Microsoft Philippines, De La Salle College of Saint Benilde, Flippish.com, Solidhosting.ph, NEO, Jehzlau Concepts, and Ganda Ever So Much.