Our family gathered yesterday for two reasons: to remember the 9th month since the passing of my hubby's father, and to welcome our sister-in-law Gina and daughter Shana who just arrived from Zamboanga.
Naturally, Filipino family gatherings involve eating. That's why we decided to dine in Davao Ranchero Grill Steak and Seafood Restaurant, because of its homey atmosphere.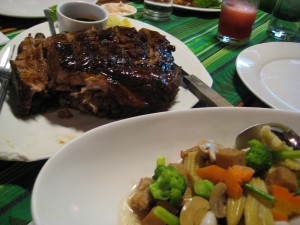 It was literally a feast! The table seemed endless, with all the food served before our very eyes. We ordered Tuna Belly, Sinugbang Panga, Seafood Vegetable Platter, Calamares, Chili Crab and Deep Fried Crabs in a Bucket, and their best-selling Baby Back Ribs.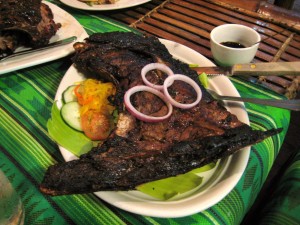 As meat lovers, Hubby and I absolutely love the ribs. The dish is so flavorful, and the meat is so soft that you feel it literally falling off the bones. Ranchero's Baby Back Ribs is definitely in our Must-Eat List, if we ever had one. 🙂
The two crab dishes were delicious surprises for us, judging on its freshness and aroma. We preferred the sauce-covered Chili Crabs over the dry Deep Fried Crabs.
As always, the restaurant's ambience is relaxing and comforting, because the natural wind breezes freely into the open facility. For those who need privacy, they also offer airconditioned function rooms.
All in all, Ranchero Grill satisfies the stomach and the senses.
Davao Ranchero Grill Steak and Seafood Restaurant
(fronting Bangko Sentral ng Pilipinas)
Tionko Avenue cor. Arellano Street, Davao City
Tel: +(6382) 225-1199