Excitement continues to build up for this year's talk-of-the-town movie set to break blockbuster records! Marvel Studios' Avengers: Endgame, the MCU's biggest assembly of superheroes yet, is set to premiere in the Philippines this month. If you are a full-fledged superfan who wants to get first dibs on Hollywood's most anticipated franchise conclusion, Globe At Home and Globe Postpaid have got you covered!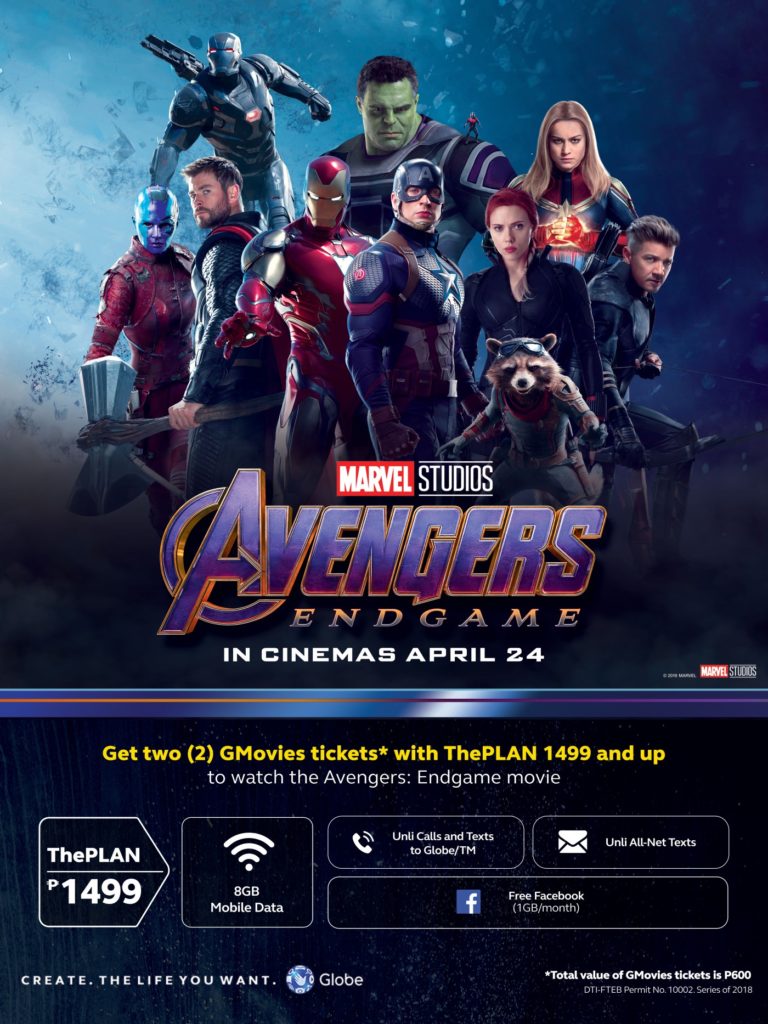 With exciting promos from Globe At Home and Globe Postpaid, you get to win GMovies passes to see Marvel Studios' Avengers: Endgame, in cinemas starting April 24!
Get two (2) movie passes via GMovies with a Globe At Home plan or upgrade your existing plan to a higher plan until May 15, 2019 via the Globe Online Shop. Successful applications will receive an email containing the Gmovies code within 3 working days from installation.
Get four (4) GMovies movie passes with Online Exclusive deals of Globe at Home Prepaid WiFi or Streamwatch Xtreme Prepaid from April 15-24, 2019 at the Globe Online Shop.
Get 2 GMovies passes with the ThePLAN 1499 and above at select Globe Stores from April 5 to 30, 2019. Plus, all successful applications of ThePLAN PLUS 999 and up from April 16 to 30, 2019 will get a P350 discount voucher for the Avengers Funko POP collection at any Filbar's store in GMA.
Relive the Marvel cinematic universe with DisneyLife, and get fast, unlimited internet of up to 100mbps with Globe At Home Postpaid. Enjoy world-class entertainment with 6 months access from Globe to top streaming apps such as DisneyLife, FOX+, HOOQ, Amazon Prime Video, and iflix.  You can also satisfy your Internet streaming cravings at home with fast, reloadable and affordable Home Prepaid WiFi with a one-time payment of P1999. Load up with various promos, with as low as HomeSURF199 (2GB for seven days). To know more about Globe At Home and its products and services, visit globe.com.ph/broadband or follow Globe At Home on Facebook for updates.
Always on-the-go? Get ready for Avengers: Endgame by streaming the previous Marvel movies anytime, anywhere on DisneyLife – an all-in-one app where you can enjoy your favorite TV shows, movies, and music from Marvel, Disney, Pixar, and Star Wars! If you're a Postpaid subscriber, just text DLIFE149 to 8080 to enjoy a DisneyLife subscription for only P149 per month.
With Globe At Home and Globe Postpaid, get up to speed on everything Marvel as you #CompleteTheMission before Marvel Studios' Avengers: Endgame finally arrives in cinemas on April 24, 2019.