As you drive along Bacaca Road, you can see a tail of a crashed plane on a roof of a jungle-themed restaurant. No, that's not a real plane crash. That's the spot that marks Zoofari's Outback Grill, known for their sumptuous food and entertaining dining experience.
Their menu showcases an assortment of Best Sellers, Adventure Dishes, Pasta, Sandwiches, Soft Tacos, Salads, Homemade Burgers, plus their 99-peso Zoolit Meals for the budget-conscious, the Barkada Favorites for small groups (or individuals with really huge appetites!), the Family Sets to share with loved ones, the From the Ranch dishes that include a variety of soups and veggies, and the After Dinner Treats.
The vertically skewered Chicken Tower (P399) is a winner not only in presentation but also in taste. It looks totally appetizing, and the anticipation builds up more and more as you pull up each piece of chicken barbecue from the giant stick pierced on a wooden chopping board. The meat and homemade sauce are totally worth the wait.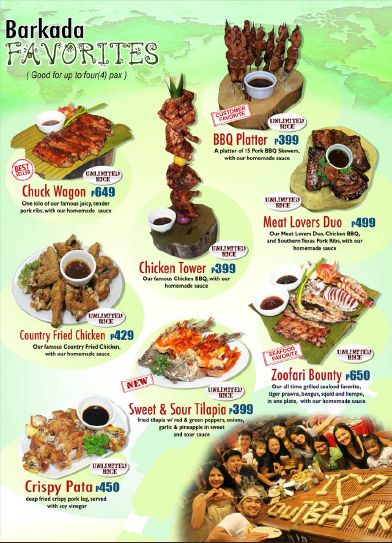 If you are looking for a feast of tender, juicy meat, then you are meant to try one of their best sellers — the Chuck Wagon (P649). You will be greeted with a kilogram of pork rib goodness glazed with their homemade sauce. The meat falls off the bone without much effort and simply melts in your mouth.
The Zoofari Bounty (P650) is a collection of their all-time grilled goodies served in one big plate, and it includes tender and juicy tiger prawns, bangus, squid and liempo. The soy sauce, calamansi and chili dipping sauce compliments the smoky flavor.
There is no fault in devouring their Goliath Burger (P699, good for up to 8 persons) — the "biggest, best, and bulkiest burger in Davao, period." The burger is enormous, measuring 10 inches in diameter and weighing a full kilogram!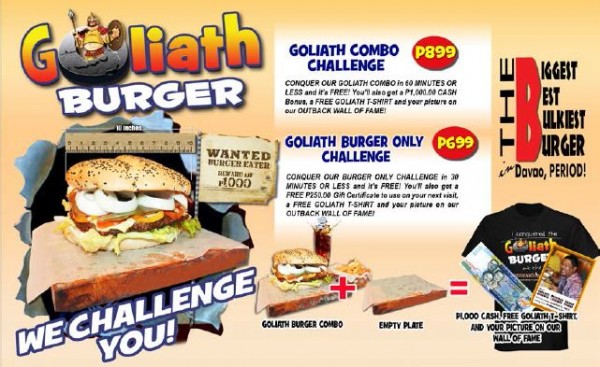 You can try the Goliath Combo Challenge or Goliath Burger Challenge for a chance to bring home gift certificates for your next visit and a Goliath t-shirt, plus bragging rights, of course — your picture posted on the Outback Wall of Fame! All you have to do is finish the Goliath Combo within 60 minutes or the Goliath burger within 30 minutes or less. If you succeed in this challenge, the meal is free too.
Among the After Dinner Treats, Buko Pandan Sago (P199) and Mais Con Hielo (P179) are my favorites. They are served inside a coconut shell with ice cream on top of loads of buko, plus a bowl of extra cream. They truly are exquisite after-dinner treats with their unique blend of sweetness and creaminess.
Apart from the food, Outback Grill is also famous for its unique brand of entertainment. Fire dancers and acoustic bands make dining so much fun. Their staff members turn into dancers too! You just have to be ready with your moves, as they are known to invite customers from their tables to join them as they do the Chicken Dance.
The restaurant is open every day from 10 am until midnight.
Zoofari's Outback Grill
Bacaca Road, Davao City
Contact No: (082) 226 2909