The two SM Supermalls in Davao City are teaming up with the Department of Tourism Region XI to launch the Big Davao Fun Sale, the country's first city-wide shopping festival slated this March 14 to April 16, 2014.
During the said shopping festival, SM City Davao and SM Lanang Premier, together with five of the city's major shopping centers, will offer a four-week long sale that aims to attract more foreign tourists and shoppers outside Davao.
The Big Davao Fun Sale, which will coincide with Araw ng Dabaw (Foundation Day of Davao) celebration, will help position Davao City as a key shopping destination. It will offer the best-value deals, up to 80% discount on a wide range of products.
Shoppers can look forward to product discounts on health and beauty (March 16-23); electronics and gadgets (March 24-30); home and travel (March 31-April 6); and fashion and active lifestyle (April 7-16). They can also avail of great deals on dining, local crafts, fruits and flowers for the entire sale duration.
Aside from that, shoppers will also get a chance to win raffle prizes such as iPhone 5 units, all-expense paid trips, and cash prizes worth up to P100,000.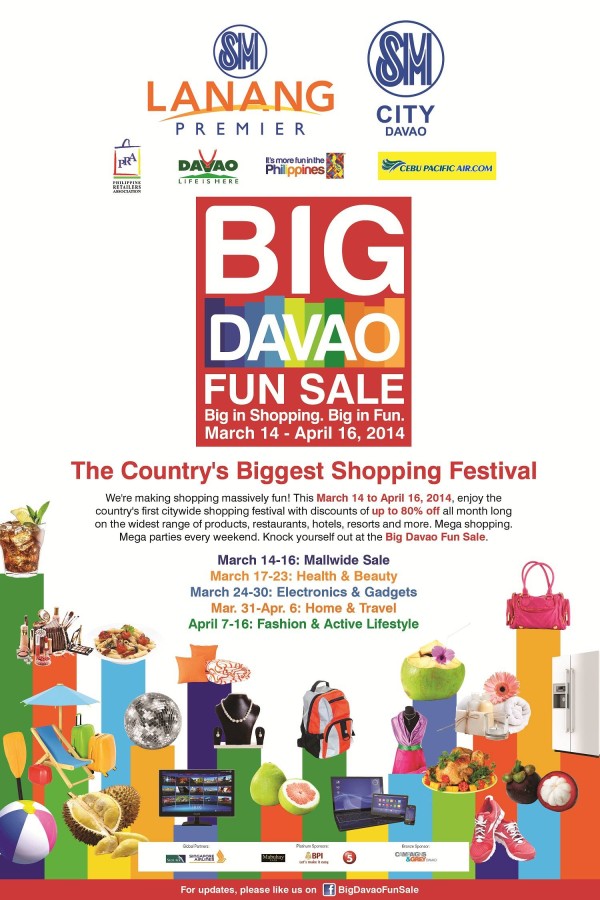 Both SM City Davao, which is located at the Southern part of the city, and SM Lanang Premier at the Northern portion are gearing up to provide exceptional offers and promotions this Big Davao Fun Sale.
Through the campaign called "Celebrate Davao: Shop, Eat, Repeat," shoppers can indulge in shopping sprees and enjoy premium deals mall-wide including big discounts and freebies at retail shops and restaurants.
A series of activities that celebrate the rich culture, lifestyle and diversity of past and modern day Davao – from art exhibits, farm and garden market, food festivals to weekend parties and many more – have also been lined up to ensure an entertaining, colorful and festive experience for all shoppers.
Mall hours will also be extended until 12 midnight on March 14 (Friday) and 15 (Saturday) to provide extra shopping convenience.
The Big Davao Fun Sale will be held in partnership with Cebu Pacific Air, Retail Association of Davao, and Silk Air.
For more details, visit www.facebook.com/TheBigDavaoFunSale or email DOT at dotr11@gmail.com. You may also check out SM Lanang Premier and SM City Davao on Facebook, Twitter and Instagram for sale alerts, promos and event updates this Big Davao Fun Sale.
Text and image from SM Lanang Premier