The Mindanao Film Festival is running on its ninth year, and a lot of indie filmmakers are not only eager to share their movies to the viewing public, but also excited to win accolades for their skills.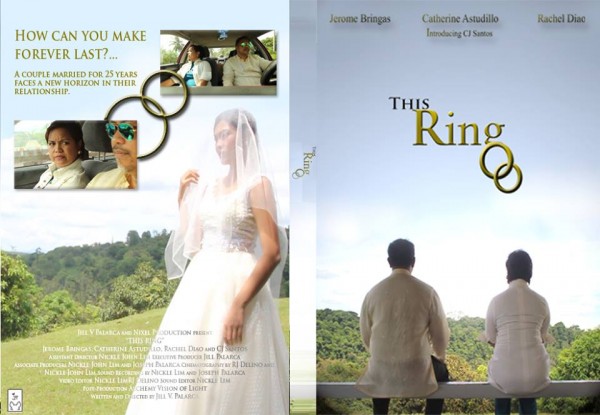 One of the entries in the movie festival is "This Ring", a short film entry to the Guerrilla Category. The film has an intriguing premise "about a married couple on the brink of breaking up and is forced to come in terms with their own marriage at their only daughter's wedding."
More details about the film: "The film, set in picturesque Davao City, is different from the usual social issue themes of Mindanaoan indie films such as poverty, lumad stories, corruption, as it focuses on the mundane realities of relationships. The film was also inspired by a recent survey that there is a growing number of broken marriages in Davao City."
The movie stars Jerome Bringas, Catherine Astudillo, Rachel Diao, and introducing CJ Santos. This short film was written, produced and directed by Jill Palarca, a former music video director of MTV Asia who has now taken a different path into church media ministries.
Check out the trailer for "This Ring":

"This Ring" is set to be shown at Gaisano Mall of Davao Cinema 5 on the following screening times: Dec 5 (Thu) at 1:30pm, Dec 6 (Fri) at 7:30pm, and Dec 8 (Sun) at 8:00pm. The movie will join six other short films during the Guerrilla Block showing. Tickets are sold for P110, and proceeds will go to the victims of Typhoon Yolanda.