A new fried chicken house is in town! After enjoying different styles and varieties of fried chicken, we are excited to welcome Manang's Chicken and its signature flavor and crunch.
The chicken restaurant started in 2011 from the home kitchen of the Gerodias Family, who has been enjoying the unique chicken preparation formulated by their household cook from whom the restaurant's name was derived. From its humble beginnings, the family's chicken recipe has evolved into Giabella Foods Corporation, a fast-growing business that forms part of the MMG Group of Companies.
Company president and CEO Jill Gerodias-Borja flew in from Manila early this month to share the history of their foray into fried chicken, as well as to introduce Manang's Chicken to local media.
And by golly, my first bite of Manang's fried chicken was oh-so-amazing! The taste evokes authentic Filipino cuisine that reminded me of my childhood experiences with food.
Manang's version of the fried foodfare was a combination of salty and sweet, with just the right amount of spices. I was hungry for more of the Original recipe, while Wifey absolutely loved the Mild Spicy variant. You can also order an Extra Spicy crispy fried chicken if you desire more heat to your chicken.
Another surprise hit for us was Manang's Chips and Dips: all-natural, freshly-fried and extra-crispy potato chips served with a yummy selection of sauces (Spicy Ketchip, Creamy Cheese, and my favorite Garlic Mayo). You may order their Chips in single-serve sizes, but I highly recommend that you buy a bucket. I couldn't stop munching on the addictive crunchy potato chips, much like you would eat peanuts for pulutan. It's a perfect party and movie companion!
After the insanely delicious meal that we enjoyed at the chicken resto, we capped the night with Manang's Velvet Sundaes, composed of warm moist cake topped with ice cream and syrup. The dessert comes in several flavors: the original chocolate variant, Red Velvet Sundae (red velvet cake with vanilla ice cream and candy sprinkles), and the exclusively-Davao Durian Velvet Sundae (vanilla cake with durian creme, vanilla ice cream and sprinkles).
For the Christmas season, Manang's offers seasonal variants Bibingka and Puto Bumbong Velvet Sundaes.
Here are the prices:
Manang's Chicken, 1 Piece Meal = P99 (with all-you-can rice)
Manang's Chicken, 2 Piece Meal = P139 (with all-you-can rice)
Manang's Chips and Dips, 1 small bucket = P170 (with 4 dips)
Velvet Sundae = P49
Situated at the 4th level of Gaisano Mall of Davao — the same floor as the Gaisano Mall cinemas — Manang's Chicken Davao is the first branch outside Luzon, and is poised to capture both the upscale and mass markets with its high-quality dishes and affordable food options.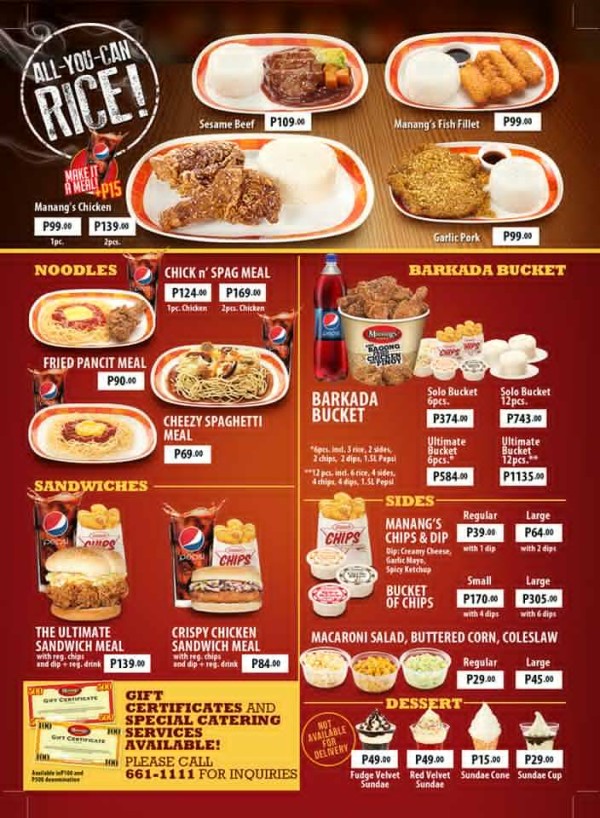 —————————
Manang's Chicken
4th Level Gaisano Mall of Davao
J.P. Laurel Avenue, Bajada, Davao City