Who says you can't have a Jollibee kiddie party when you're 33? Last Friday, we celebrated my 33rd birthday with the kids of Pag-amoma Children's Place at Jollibee in SM City Davao.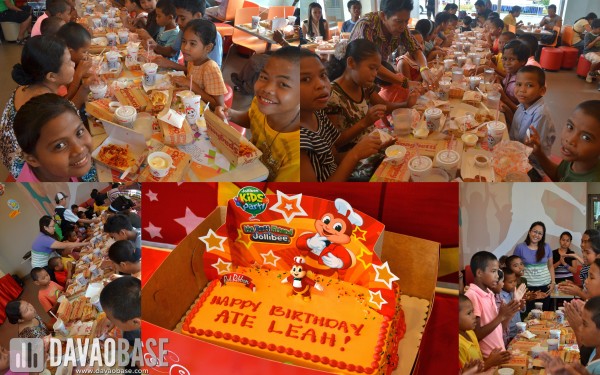 To know more about the Pag-amoma kids, read this entry.
Jollibee prepared a program with lots of games and dancing, prizes for game winners, balloons and a Red Ribbon birthday cake. We all had Jollibee ChickenJoy, Spaghetti, French Fries, Vanilla Cone Twirl and softdrinks.
Jollibee (the bee) also joined the merriment, entertaining guests with a cute dance number and gamely posing for photos.
After the party, we gave each kid a backpack bag with special character beverage bottles and goodies inside it. My nephews also distributed their old toys. It was heartwarming to see their faces light up when they received their 'birthday gifts' from us.
Miss Lisa Templado, Pag-amoma Home Management Coordinator, shared that it was the first time for the kids to have a party like this.
We praise and thank God for using us to bring joy to these children.
—–
We're sharing this to anyone who comes across this post in the hopes that this may help others who wish to reach out to the kids of Pag-amoma. You may contact Pag-amoma through:
Pag-amoma Children's Place
Calinan, Davao City
Contact them through Isaac Robillo Memorial Hospital at (082) 295-0200