Last Thursday, I woke up and went to school just like any other ordinary student. However, when the sun went down and the clear, blue sky became a black background, I donned my special glasses and witnessed an epic battle between the aliens and the Avengers. Sounds imaginary huh? Well, it's not. When you have been to the new IMAX theater in SM Lanang Premier, movies suddenly become the very thing that surrounds you.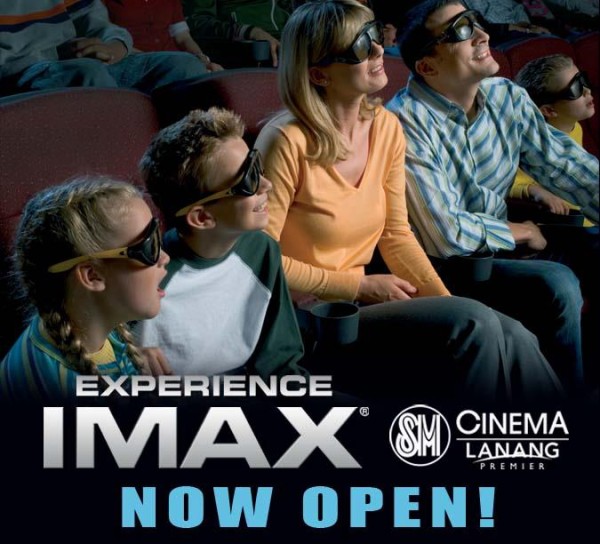 Like any other movie fanatic, I like to indulge, once in a while, in a 3D movie. But then I end up regretting that choice because after the movie I feel dizzy, disoriented and wishing I just watched the regular 2D movie. However, IMAX is a whole new experience.
How can I explain IMAX? I may provide you a whole, scientific sounding explanation but here is my explanation: IMAX is a 3D movie with high altitude. The screen is so huge that it goes away from your peripheral view making you turn your head in different directions to better witness and absorb the action. An ordinary 3D movie makes me want to rub my eyes with tiredness, but in IMAX, eye-rubbing was not present. The 3D effects were clearer, more realistic and more fun.
But IMAX is not only an amazing 3D theater. No, IMAX is much more than a "theater." It is the epitome of great entertainment, ingenuity and comfort. I would always try to snag the best seat in the theater so that I can actually see the movie instead of having to stretch my neck to see the screen. In IMAX, the seats are smartly arranged on levels so that no matter how tall the person in front of you is, you can still see the entire screen without having to stretch your neck like a giraffe.
Needless to say, the movie that was screened to the guests was the all-time favorite "The Avengers," which is the best movie to showcase the brilliance of IMAX. Let me tell you this: You haven't watched "The Avengers" until you've watched it on the IMAX screen. Get ready to dodge The Hulk because he'll be jumping at you!
I would like to thank IMAX and SM Lanang Premier for my first amazing IMAX experience. I always thought that IMAX wasn't any different from an ordinary 3D movie, but I soon found out that it is. Catch an IMAX movie now. Have fun fighting alongside The Avengers or going deep-sea diving because when you're in IMAX, you will get to do all these things — without leaving the comfort of your seat, of course.
—–
See SM Lanang Premier IMAX Theater cinema schedules.