Their Baby Back Ribs always finds it way on our table every time we dine at Ranchero. Every bite of its soft, tasty meat brings so much pleasure to the mouth.
Our recent Abreeza Food Tour, however, gave us a welcome opportunity to try their other dishes. With how absolutely delicious their Baby Back Ribs is, it sometimes makes us forget that the restaurant actually has many more to offer.
True to its desire of bringing the best Filipino meals, Ranchero offers Pato Tim, a positively delightful dish of organically grown duck seasoned and cooked to its finest.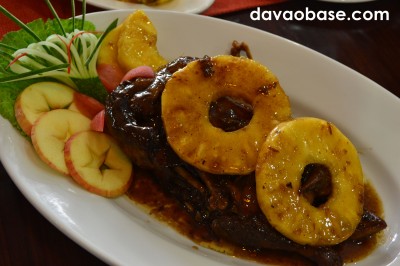 They also have the 'basic' pork barbecue for the more conservative diners. But lo and behold, nothing is basic about their version: succulent pork cuts marinated in sweet barbecue sauce. Hubby says Ranchero's barbecue reminds him of the home-made pork barbecue that his father used to cook for the family.
The Seafood Rice is actually a whole meal in itself! The dish consists of sticky flavored yellow rice mixed with generous amounts of squid, shrimps, crabs, sea shells and egg.
The restaurant also offers unique flavored drinks such as Dragon Fruit Shake and Honeydew Shake, which both taste fresh and organic. You have to include these in your list of healthy food to try at Abreeza.
While Baby Back Ribs continues to be the local restaurant's bestselller, Ranchero is ready to serve up a whole new image through their noteworthy dishes.
—————————
Ranchero
3rd Floor, Abreeza Mall
J.P. Laurel Avenue, Bajada, Davao City
Also, visit the Ranchero website for more about the restaurant.