It was a reunion of sorts for us, as we recently made our way back to Coffee Dream at SM City Davao more than three years since our first visit. Back then, we gushed about how Coffee Dream has provided us with the much-needed relaxing atmosphere amidst the busy shuffling at the mall. We loved everything about them in the past, but somehow we forgot about coffee for a while.
When we learned about Coffee Dream's new image, we headed off to their SM Davao shop with fellow Davao bloggers. The atmosphere is the same: spacious, homey, and definitely relaxing. It offers the same amenities, but through a new and better branding: a dreamlike state while sipping coffee.
Coffee Dream has maintained their signature mocha cappuccino conconctions, like Frosticcino (ice-blended variant) and Mochaccino (hot variant).
They also relaunched their cold drinks, especially the brightly-colored Blended Chills: Fro-Reo, Strawberry Chill and Mango Chill.
If you think you'll only enjoy coffee in the shop, you'll surely get a sugar overload when you sample all of their desserts and pastries. They have a wide array of desserts that perfectly complement your cup of coffee. Be sure to try them all:
Here is a closer look of Choco Caramel Cake and Choco Cheese Cake.
Meanwhile, check out their drool-worthy desserts Chocolate Dome, Blueberry Cheesecake and Sans Rival.
Their sandwiches also deserve their own spot in the Coffee Dream pedestal. Enter two of their bestsellers: Chunky Chicken Sandwich and Farmer's Ham & Cheese. Our stomachs were not ready for this much food, but Coffee Dream's sandwiches look appetizing and delicious.
Coffee Dream at SM City Davao offers free WiFi, and accessible electrical sockets for your drained laptops. Their shop can accommodate big groups, and they also have an al fresco dining space outside.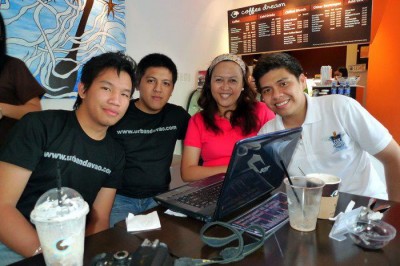 Burp! Coffee Dream succeeds not only in launching their new modern image, but also in reviving our love for coffee — with the help of desserts and sandwiches, of course!
—————————-
Coffee Dream
Ground Floor, SM City Davao
Ecoland, Davao City