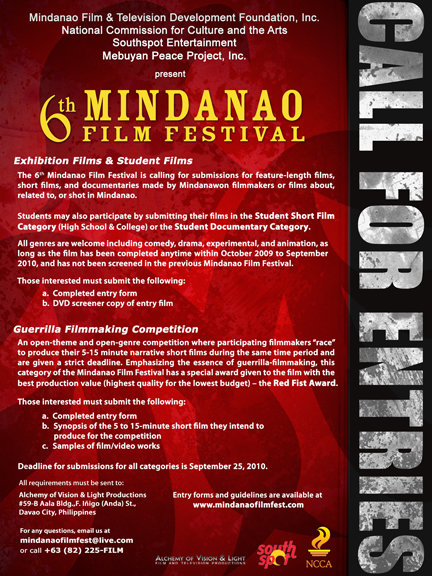 Amateur and professional filmmakers from Mindanao are invited to showcase their works in the 6th Mindanao Film Festival. Feature-length films, documentaries or short films are welcome for screening in this year's movie marathon.
Requirements for entries are as follows:
Completed application / entry form [download here]
DVD screener copy of the film to be submitted
Filmmakers from outside Mindanao are still welcome to join, provided that their entries are related to, about, or shot in Mindanao.
The film entry may be in any genre. It must be completed within October 2009 to September 2010, and has not joined the previous Mindanao Film Festival. Deadline for submission of entries is on September 25, 2010.
Send your entries to:
Alchemy of Vision & Light Productions
#59-B Aala Bldg., F. Inigo Street (formerly Anda Street), Davao City
———————–
For more information, visit their official website.
You may also call (082) 225-FILM.