Jesuit music as rendered by the Carillon Ateneo de Davao Glee Club is one of the highlights of several events in the university. That is why, as an Ateneo graduate, it is with enthusiasm that I look forward to this group's latest project — a back-to-back concert with Ateneo de Manila's own glee club!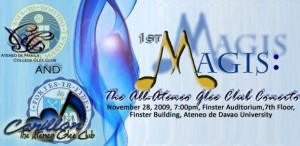 The 1st Magis: All-Ateneo Glee Club Concerto will feature the Carillon Ateneo de Davao Glee Club and the Ateneo de Manila Glee Club in a one-night music extravaganza.
This highly anticipated event, said to be the first in Ateneo history, is scheduled on November 28, Saturday, at the Finster Auditorium, Ateneo de Davao University. Tickets are available for P150 (discounted price for Ateneo students) and P200 (regular price).
——————–
Magis is a Jesuit phrase that refers to doing more for Christ and for others. This is taken from "Ad majorem Dei gloriam", the motto of the Society of Jesus, which means "for the greater glory of God".