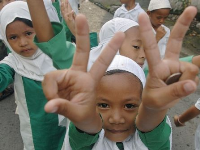 Change starts from within. That's how Davao City — and Mindanao, on a wider scale — should be envisioned towards prosperity and peace.
This year, Davao City will play host to a peace gathering of Mindanao's key representatives from local government units, civic organizations and peace advocacy communities. This event is connected with ACTION-REPAIR, a two-year project aiming to improve the lives of Mindanawons gravely affected by natural calamities and socio-political conflicts.
To date, ACTION-REPAIR has lended its able hands to eight provinces in Mindanao, or close to 30,000 locals.
The peace gathering will be conducted at Garden Oases Resort on July 1, 2009. Expected in attendance are Vice Mayor Sarah Duterte, and party-list representatives Luz Ilagan and Satur Ocampo.
You can read more about this event, through the official PIA Press Release.