Finally, our plan was realized. Presenting our new baby — the Acer Aspire 4730z!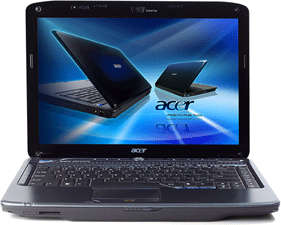 It also marks our first successful online shopping experience. At first, we were hesitant to purchase something that we weren't able to see. After all, online shopping tends to be risky in some cases.
In the end, though, we took the plunge and bought the laptop by ordering online, via PC Corner, a well-known computer shop in Mandaluyong City.
"Why not buy in Davao City?", you might ask. Unfortunately, this Acer laptop series was in demand, and therefore hard to find. We asked the big shot computer shops like Columbia Computer Center and Digital Interface, to lesser known stores like Octagon and Micro Valley. Not one of them had the item on stock!
Plus, who can resist a freebie? One of the factors that encouraged us to buy online is the free delivery anywhere in the Philippines. After we paid for the laptop by making a deposit to their Banco de Oro account, the purchased items were sent via 2GO Express and we were able to track the package through the courier's e-Trace service. We ordered on a Tuesday, and our package arrived the following day. Great!
Another come-on was the higher laptop specs (4 GB RAM, Intel Pentium Dual Core T4200, 250 GB Hard Disk) that PC Corner was offering.
So, how is our new Acer Aspire 4730z doing? We're actually still tinkering with it, so we'll need a little more time to write a review on this gadget. 😉