If you are a professional photographer or someone who just loves to take pictures, take your camera to any Pasko Fiesta sa Dabaw 2014 event and you might snap the photo that best captures the spirit of the festivities.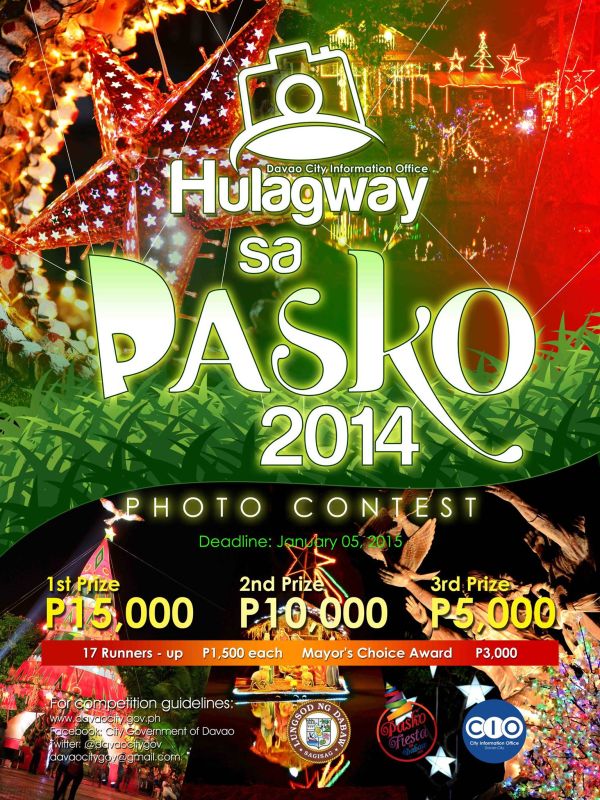 Hulagway Sa Pasko 2014 Photo Contest is a competition open to professional or hobby photographers. The contest guideline is simple: Take a picture of anything — an event, place, person, or object — that best represents the essence of Christmas in Davao City.
Here are some of the highlights of the contest mechanics:
Registration is free. Just fill out the registration form available through the link after this article or at the City Information Office.
The photo must be taken in any of the Pasko Fiesta sa Dabaw 2014 activities between December 8, 2014 and January 1, 2015. Click here for the Pasko Fiesta sa Dabaw 2014 schedule of events.
Each participant may submit a maximum of two photos.
Entries should be printed in 8″ x 12″ size, and a digital copy must also be submitted. The following must also be attached to the entry: filled out registration form, CD / media containing digital copies of the photo. All documents must be placed inside a long brown envelope.
Deadline for submission of entries is on January 5, 2015 (Monday) at 5:00 PM. Entries must be submitted to the City Information Office, Room 18, 2nd Floor, City Hall of Davao.
Winners will receive the following prizes:
Mayor's Choice Award

: P3,000

17 runners-up

: P1,500 each

3rd prize

: P5,000

2nd prize

: P10,000

1st prize

: P15,000
Click here for the complete mechanics of the photo contest and the required entry forms.