Autism Society of the Philippines (ASP) – Davao Chapter in partnership with SM Supermalls will be mounting a special screening of The Nut Job, an animated comedy film about a mischievous squirrel who must break into his town's biggest nut shop in order to help his pals gather food to survive the winter.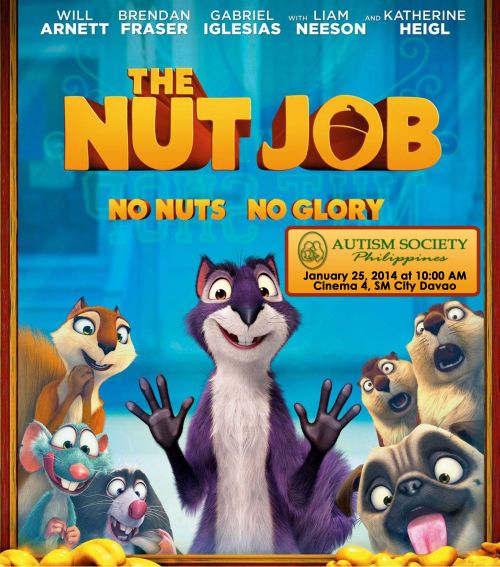 This happens on January 25 (Saturday), 10:00AM at Cinema 4 of SM City Davao. Persons with autism (PWAs) can watch the movie free of charge, while their companions and chaperones can avail of tickets for only P100.
Organized in line with National Autism Consciousness Week, which aims to continually promote awareness, equal rights and opportunity for all persons with autism, this special screening promises to be "sensory-friendly" to give the special audience a more accepting and comfortable setting.
Most children love watching movies on the big screen, but while going to the movies is a pleasant experience for most families, it can be difficult for those with children with autism. The bright screen in a very dark room and the loud sounds from the speakers often over-stimulate and frighten children with autism. Other children also find it difficult to sit still or stay quiet for the entire film, which can disrupt other families.
To address these, SM Cinema will keep theater lights up, the sound will be turned down, and movie previews and advertisements will be eliminated. Children will be allowed to bring their own snacks, considering some might have special dietary requirements. They will also be allowed to talk, walk around, dance, sing, or shout, as they please.
Autism is a lifelong developmental disability that affects how an individual interprets what he sees, hears, and touches, thereby impairing his understanding and use of language, and his adaptation to his environment. Autism Society Philippines of the Philippines (ASP) has been in the forefront of providing services to families affected with autism and spearheads the annual celebration of National Autism Consciousness Week every 3rd week of January. For more information, visit autismsocietyphilippines.blogspot.com.
Text and images from SM City Davao