The newly opened Toby's Arena store at the 2nd level of Abreeza Mall is giving away 3 brand new pairs of shoes worth P4,000!
For a chance to win, follow these simple steps:
1. Go to Toby's Arena in Abreeza Mall.
2. Take a photo of you in your favorite section of the store.
3. Post the photo on Toby's Sports Facebook wall.
4. Share why you like that store section.
5. Tag 5 friends in your photo.
6. Get a chance to win any of the 3 brand new pairs of shoes worth P4,000 that will be raffled off. Winners can choose which brand of shoes they prefer to win.
7. Submission of entries is from October 3 to 31, 2011 only.
8. One entry per customer only.
*Only applicable in Toby's Arena Abreeza Davao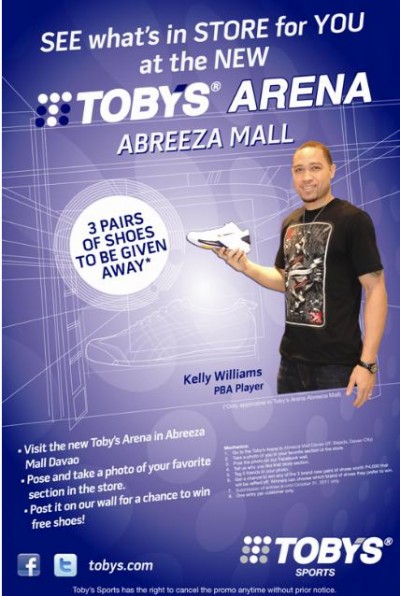 Toby's Sports is the leading and largest sports retail chain in the Philippines, known for its widest selection of sports gear, quality service and innovative store design. Toby's offers a line of over 101,600 sports products from 148 internationally known sports brands, covering 46 different sports. To date, Toby's has 40 stores, 29 of which are company –owned stores located in Metro Manila, and 11 of which are franchise stores strategically located in cities throughout the country.