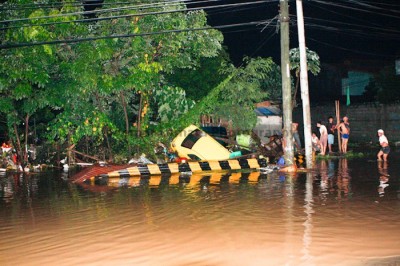 Davao City was struck by tragedy today, June 29, 2011, as several parts of the city experienced sudden flooding due to heavy rains. The areas affected by the flood include Matina and Bangkal. Many residents have lost their homes and possessions, and are in dire need of assistance.
If you would like to lend a helping hand, you may send your donations and assistance to the following:
GMA Davao Complex

: Shrine Hills, Matina; Phone (082) 297-2520

Radyo Arangkada

: Door #1 Delgar Bldg. (fronting Camella North Point), Bajada; Phone (082) 222-4994 or 09099093067

Perry Lequigan

: 934 Emilio Jacinto Extension, Acacia; Mobile 09192354417

Ateneo de Davao University SAMAHAN Office

: Phone (082) 221-2411 locals 8347 and 8328

JCI Davaoena Daba-Daba

: through Trellis N Vines, F. Torres St.; Mobile 09177042535

NCCC Mall

: Activity Center; Clothes are preferred.
If you know of any other donation / drop-off venues, kindly share it with us through the comments. Let's help our fellow Dabawenyos in this trying ordeal.
[ Photo courtesy of Joemar Lamata ]