From 29 January to 02 February 2013, Davao City will serve as host to Liwanag: World Festival on Creativity and Sustainability.
Thousands of people are expected to converge in Davao to be part of the first Liwanag World Festival.
During the festival, there will be plenary activities, parallel workshops, open space workshops and exhibits featuring leaders, artists and groups of social entrepreneurs. The activities will be held at the Philippine Women's College of Davao in Matina.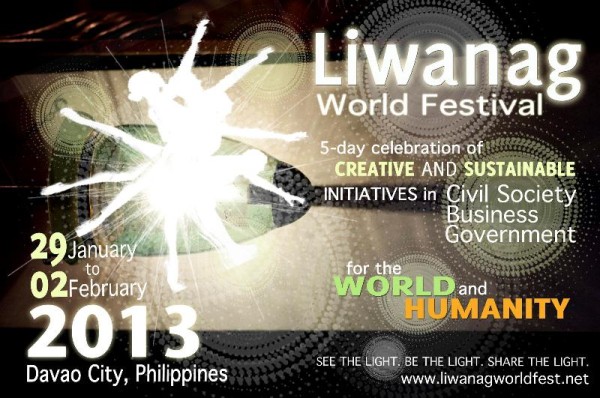 Davao City Mayor "Inday Sara" Duterte has already declared January 28 to February 3, 2013 as Creativity and Sustainability Week in Davao City, by virtue of Proclamation No. 03, Series of 2013.
Also, a bike pilgrimage called "Padyak Tungo sa Liwanag" that started in Palaui Island (Northern Luzon, near Aparri) on January 1, 2013 and will end in Davao City on January 29, 2013 has been initiated in support to the festival.
The event is organized by the Movement of Imaginals for Sustainable Societies through Initiatives, Organizing and Networking (MISSION), in partnership with the government of Davao City, Lifebank Foundation, Davao City Chamber of Commerce and Industries, Inc., ABS-CBN, Association of Regional Executives of National Agencies (ARENA) and the Philippine Women's Colleges (PWC) in Davao.
For inquiries, you may contact:
Liwanag Secretariat
Door A6 2nd Floor, Lakitan Mall,
San Pedro St., Davao City
Email: lwfdavao@gmail.com
Contact Nos:
0918-914-1047 (Lilli Arellano)
0922-832-3244 (Melma Abasolo)
0918-520-1400 (Nick Solana)