February is a month of new things for DavaoBase. First, we've just transferred to a new domain registrar and web host. Hopefully, this transfer goes for the better.
Second, I tried dabbling my hands on Google Adwords. I signed up with the service in order to generate more page views (and site clicks) through Google search. Here's a sample ad that I arranged: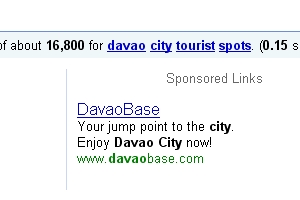 That's our site URL on a Google search!
The ad is still new (i.e. less than a few hours old, as of this writing). I'll check in a few days / weeks if page views have improved.